Innovation within the world of cannabis is constantly leading to inventive and creative outcomes within the field. Edibles, in particular, is an area that seems almost limitless when it comes to medicating food and turning everyday delicacies into a recreational stoning treat. By using cannabutter and other medicated bases, almost any dish you can think of can be laced with cannabinoids, adding a psychoactive and even nutritional touch. Anything from pasta, salad dressings, and sauces can be modified to become vessels of cannabinoids. It's even possible to infused bread with THC, CBD, and other cannabinoids, meaning anything from a slice of toast to a multi-layered sandwich can get you baked.
You can find out How to make Brick hash here!
Cooking with cannabis is a whole lot of fun. Check out the recipe below for step-by-step instructions on how to make delicious cannabis bread.
The world of edibles is extremely vast. From classics like cookies and brownies to fancy curries and pasta, people are constantly looking for new ways to work weed into their favourite meals.
In this article, we'll show you how to make delicious cannabis bread that you can have on its own, or use to accompany a long list of other meals.
Recipe
Ingredients:
5g of marijuana flowers that have been de-stemmed and deseeded
3 cups of all purpose flour (2 cups of white flour and 1 cup of whole wheat flour, the wheat flour is optional)
Cornmeal/ wheat germ/ flaxseed meal, for dusting
1 and 1/4th teaspoon salt
1/4th teaspoon active dry yeast
1 and 3/4th cup of non scalding warm water
Kitchen Tools:
Grinder
Oven safe ramekin
Aluminium foil
Metal pan with lid or Dutch oven
Instructions:
Firstly grind the marijuana flowers into a coarse mealy consistency. Make sure all stems and seeds have been removed. Put the marijuana in the ramekin and cover the top tightly with aluminium foil to seal it. Preheat the oven to 220 degrees and put the ramekin in for 1 hour. At the end of an hour take it out and you will have decarboxylated active marijuana. If you have earlier prepared decarboxylated marijuana you can directly use that in your recipe.
The next step is to prepare the flour mix. Mix the flours, salt, yeast and marijuana in a bowl using a whisk. Then add the warm water (110 degrees) to the flour and mix it well. It will form a shaggy sort of dough. This is the time when the yeast will develop in the dough. Cover the bowl with cling film and keep it in a warm spot of about 76 to 80 degrees overnight for at least 12 to 16 hours for the dough to rise to double its size. You know your dough is ready once you see small bubbles on top of it.
Next put the dough on a clean well floured surface and put some flour on your hands too. Start folding the dough two or three times to form a ball. Place the ball with the seams facing down on a good coating of flaxseed mealor whichever meal you are using for dusting. Put some of it on top of the dough as well and put it in a cotton cloth and cover it lightly. Keep it aside to rise for 2 more hours.
Preheat the oven to 450 degrees about 30 minutes before you are ready to bake the bread. Put the Dutch oven or metal pan in the oven to heat as well. When the dough is ready takethe pan out carefully using oven mitts and put the dough into the pan with the seam side facing up. Cover with the lid and put it in the oven to bake for 30 minutes.
After 30 minutes remove the lid off the pan and let the bread bake for about 5 to 10 minutes more. Then take it out and tap the crust of the bread for a distinct hollow sound and you'll know that your bread is ready.Carefully tip the bread on to a cooling wire rack and let it cool for 2 hours at least. Cut the bread only when has nicely cooled down and it's ready to be eaten!
USING THIS RECIPE
The above recipe is extremely basic. While it still makes delicious bread, don't be scared to spice it up with extra flavour. Things like olives, caramelised onions, or parmesan cheese, for example, can all be added to the dough recipe to make delicious flavoured bread.
Cannabis-Infused Banana Bread Recipe
Banana bread always brings me back to my childhood. More often than not, my family wouldn't eat all the bananas my parents tried to keep around the house for us, and it was my job (as a baker since I first got hold of an Easy-Bake Oven) to repurpose them before they went to waste. Banana bread is still one of my favorites; I often grab extra bananas at the store so I'll have some brownish ones (you definitely want to use overripe fruit when you make banana bread) ready to mash a week or so later.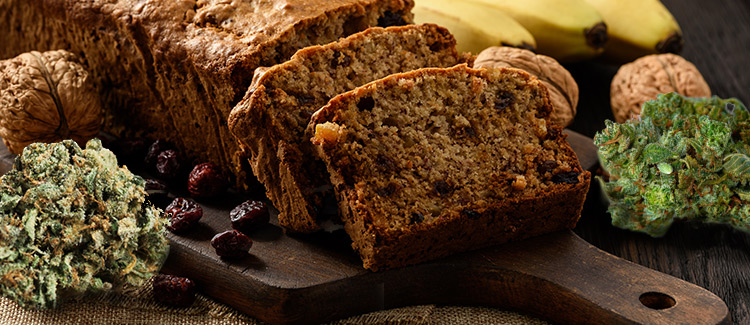 This recipe is a little more grown up than my childhood version. The cinnamon and orange zest are optional, but they balance out the earthy cannabis flavors quite nicely. In a pinch, lemon zest can be substituted. The best part: it makes a great breakfast, a light afternoon snack, or a sweet dessert. If you're the wake-and-bake type, use your favorite sativa strain to get those thoughts rolling; if you're more of a midnight snacker, try it with a heavy indica to help you relax and turn off for the night.
Cannabis Banana Bread Recipe
Start to finish: 1 hour 20 minutes (active: 20 minutes)
Yields: 12 servings
Approximate dosage: 10 milligrams per serving*
Ingredients
1 ¼ cups sugar
½ cup cannabutter, melted
2 eggs
1 ½ cups (3 to 4 medium) overripe bananas, mashed
½ cup buttermilk
1 teaspoon vanilla extract
1 tablespoon orange zest (optional)
2 ½ cups all-purpose flour
1 teaspoon baking soda
1 teaspoon salt
1 tablespoon cinnamon (optional)
1 cup chopped nuts (optional)
Directions
Preheat oven to 350°F. Butter and flour the bottoms only of two mini loaf pans, or one large loaf pan.
Beat the cannabutter and sugar with a hand mixer or the paddle attachment of a stand mixer. Add the eggs, one at a time, and beat at a low speed until well blended. Add the mashed bananas, buttermilk, vanilla, and orange zest. Beat at medium-low speed until smooth.
Sift together the flour, baking soda, salt, and cinnamon. Add them to the wet mixture while beating on low speed, and continue beating until just moistened.
If using nuts, fold them in and pour the mixture into pans.
Bake two mini loaves for 50–60 minutes, or one large loaf about 70–75 minutes. When done, a toothpick inserted into the center should come out clean. Let them cool completely (approximately two hours) before slicing. If stored in an airtight container, loaves will keep about five days at room temperature, or 10 to 12 days refrigerated.
Pro tips for a perfect loaf:
I always butter (or grease) my pans and then dust them with a light layer of flour whenever I bake cakes, brownies, or breads. This makes for a much smoother removal.
Position the oven rack so that the tops of the loaf pans are dead-center in the oven to prevent over-browning of the crust
Slather with butter (or more cannabutter) for an even better banana bread experience!
*Note: The amount of cannabutter specified in this recipe is a very loose suggestion; the actual amount you use should be modified based on the strength of your butter and the potency you desire. Dosing homemade edibles can be tricky (click here to learn why), so the best way to test for potency is to start with one portion of a serving, wait one to two hours, then make an informed decision on whether to consume more. Always dose carefully and listen to your body, and never drive under the influence of cannabis.