Growing cannabis is a process that requires attention to detail and a significant investment of time, effort, and money. If you want to optimise your resources and maximise your yields, check out the answers to your most frequently asked questions about growing weed below.
Truth is, while growing weed successfully isn't necessarily difficult, it is a learning process, and mistakes can, and will, be made. To help you with your grow right from the start, and so you can look forward to a great harvest, here are the answers to 10 frequently asked questions about growing weed.
What does a cannabis plant need to thrive?
In order to thrive and grow, every cannabis plant needs:
Light – whether you're using sunlight or grow lights, you must understand the light needs of a cannabis plant to get the best bud quality & yields.
Growing Medium – the stuff your plants grow in; soil isn't your only choice!
Air – a well-ventilated space with good air exchange and a slight breeze is best.
Temperature – A good rule of thumb for cannabis plants is if it feels too hot for you, it's probably too hot for your plants. Just like humans, cannabis plants can die if exposed to extreme temps.
Nutrients – you can buy pre-formulated nutrients that you just add to your water, or you can compost your own super soil so that it already includes all the nutrients you need.
Water – like all plants and living creatures, cannabis needs water to survive and grow. Is my tap water "good enough" for growing cannabis?
If you planted a cannabis seed today, when is the soonest you could be actually smoking your harvest? Probably about 9 weeks with a quick-finishing autoflowering strain.
Indoor grows tend to be shorter than outdoor grows since you have more control over when the plant starts budding. Auto-flowering grows also tend to be very short. But with shorter grows, you also tend to get smaller yields. Certain strains and certain outdoor grows can take up to 7 months or more.
On average, I'd say it takes a grower about 3 – 5 months to grow, harvest and cure their own buds.
Don't Make the 3 Most Common Cannabis Growing Mistakes!
One of the most common mistakes by new cannabis growers is conducting spur-of-the-moment experiments that hurt or possibly even kill their plants. Always take a second to google your idea before you try it. Luckily when it comes to growing cannabis, there is a good chance that someone has tried it already!
The next most common problem new growers have is the tendency to skip crucial steps like understanding light schedules, or why root pH levels are important for reducing nutrient deficiencies. While you can get lucky and succeed at growing weed without taking these steps, you are a lot more likely to end up with plants that are sickly or don't produce well. Make sure you follow all the steps listed in this guide – you deserve to harvest your own top-quality bud!
Don't re-invent the wheel! You can benefit from the mistakes of others by learning how not to make the same mistakes. Don't be afraid to look something up or ask a fellow grower!
Great Genetics Are Everything
You don't have to be a master marijuana grower to know that your marijuana is only as good as its genetics. The first step to growing some good marijuana is finding an excellent cannabis strain, and there are plenty to choose from. So the million-dollar question is, where do I find quality marijuana strains?
Finding the best weed strains is as simple as searching for them on the internet. You'll find plenty of seed sellers online who can get you high-quality strains. You can use the strain finder from Cannaconection to get a great strain.
However, remember to only buy your cannabis from a reputable seller for the best seed. Some swindlers will sell you schwag seeds for the price of a high-quality strain.
If you find a great strain, remember to take proper care of it for the best results.
Always Grow Inside
If you want the best weed, then always grow your weed inside and not outside. Not saying that your weed won't grow outside, but it's highly unlikely you'll get the results you want.
Growing inside gives you more control of the climate and the entire growth process. Inside is also way hygienic than outside, making it perfect for growing marijuana.
Also, you don't need an entire greenhouse to grow your marijuana indoors. You can use a few grow boxes that measure a few inches, and your results will be just as stunning. Check out these grow boxes from Bloom by Botanicare and see how they work for you.
Have Proper Lighting
Growing marijuana indoors requires a lot of care, and one aspect you can't overlook is the light. Outdoor marijuana plants have the privilege of receiving natural light from the sun. Since you're growing yours indoors, you'll have to make up for the absence of natural light.
To have your lighting in order, invest in high-quality lights, ballast, reflectors, and hoods. Always remember to change the bulbs at least twice a year. Only settle for high-quality bulbs, the second-grade bulbs are just as good as an ordinary light bulb.
Have Strict Bedtimes
Most cannabis strains have a short growing cycle of about eight weeks. As such, you need to have them reach their full potential in just two months.
One way of doing so is by having consistent "day" and "night" times. It's best if they have about twelve hours of darkness and twelve hours of light each day.
Maintain this cycle for the entire two months, and you'll grow some healthy cannabis. If you use smart lights, you can set them to turn off after twelve hours automatically and turn on again after another twelve hours.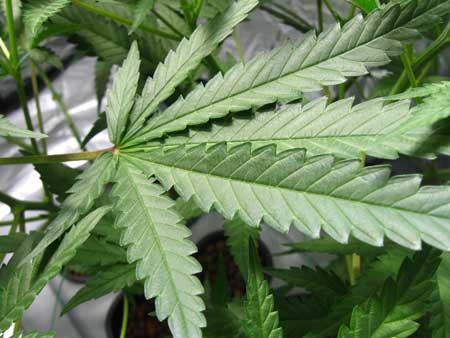 Take It Phase-By-Phase
Each phase of the marijuana growing cycle has different requirements. In the first growth stage, the plant requires a lot of nitrogen to grow and bloom. During the last stages of the plant's life cycle, it requires virtually no nitrogen.
If you give it a lot of nitrogen during the last growing stages, then it may end up with a nasty metallic taste. As such, you need to be keen on what you feed your plant at each stage of your life cycle.
Be Careful With What You Feed Your Plants
Nutrient companies will hurl empty promises at your face, and you're likely going to take the bait. When what they promise seems a bit unrealistic, then it's probably not true. So don't spend your money on expensive nutrients that do nothing for your plant.
Also, be on the lookout for knock off nutrients. They do more harm than good for your plants. You can spot knock-offs by their ridiculously low-price tags as compared to the original.
It's also a good idea to stick to base element nutrients as opposed to pre-mixed ones. You can buy different base element nutrients and mix them by yourself. That way, you can give your plants exactly what they need.
Water Quality Matters… A Lot
All water is not the same because of the quantity and types of dissolved solids in it. These dissolved solids can adversely affect the plant, depending on what they are. Domestic water is a definite no-no because of the chlorine and fluoride used to treat the water.
These chemicals won't kill your plants, but you won't get the best results either. If you really want the best from your plants, then invest in a filtration or reverse osmosis system. Once you do, always remember to change your filters frequently for the best water quality.