Do weed plants have genders? What are the differences between male and female cannabis plants? Find out in this article.
Like most living creatures such as humans, animals, and other plants, the cannabis plant also has male and female genders and reproductive systems. Being able to distinguish between male and female marijuana plants is important for breeders and growers as the type of weed plays an important role in the value and quality of the final product that is being sold.
Main Differences
Only female marijuana plants can produce potent high THC buds. Thus, it is redundant to sell male marijuana plants as if will have minimal psychoactive effects and will not provide much of a high when consumed. Additionally, male plants can contaminate a crop of female plants by potentially fertilizing them. Once a female plant is fertilized, it will spend more of its energy on producing seeds rather than growing juicy THC nugs and flowers. Male plants can also crowd female plants, restricting the space for female plants to grow to their full yield potential. Therefore, growers will only plant crops of female seeds if they intend to cultivate marijuana into a sellable product.
So how do we know which seeds will grow into which gender?
Well, regular seeds have a 50/50 chance of growing into a female or male plant. So if you pull seeds from a nug and decide to plant them, there is no guarantee as to which gender the seeds will produce. This is why the production of feminized seeds has grown into a large market, allowing growers to know that the seeds they plant will grow into female plants.
Physical Differences
Say you found a few seeds in a nug you were about to grind and decide to try growing them. How do you identify and tell the difference between female and male plants?
To identify the gender of the cannabis plant, you must examine what grows in between the nodes. The nodes are the part of the plant where the branches extend from the stalk of the plant. Male plants will have small pollen sacs for the purpose of spreading seeds while the female plant will have stigmas, which catch the pollen that male plants spread. It is best to identify the sex of the plant before the plant's reproduction cycle become active. Usually, it is possible to determine the sex of the plant by 4-6 weeks into plant growth.
Hermaphrodite plants?
When a female plant is exposed to or put under a lot of stress, it can ultimately develop both female and male sex organs, thereby creating a hermaphrodite plant for self-reproduction. A hermaphrodite plant can pollinate the entire crop and is best removed when discovered.
Therefore, it is crucial to continuously monitor your plants whilst stressors are distinguished and minimized so that your plant or crop can flourish. Plant stressors can include:
Plant damage
Nutritional deficiencies
Extreme weather
Disease or pests
Growing a marijuana plant is a patient but rewarding process, so it is best to ensure you get the best yield by identifying and removing male plants from your crops and taking care of your female plants to ensure nice healthy plants with juicy nugs.
Marijuana Life Stages & Gender: Only Female Cannabis Plants Make Buds
Did you know there are both male and female marijuana plants? Yes, marijuana plants show gender, and the sex matters a lot to the grower.
That's because only female plants produce buds. How do you grow female plants?
Regular marijuana seeds will be 50% male, and 50% female. That means half of the seeds will be unusable as far as growing buds.
One way around this is to purchased feminized seeds online. These seeds are available from all reputable online seedbanks, and the plants produced by these seeds are always female.
When do marijuana plants reveal their gender?
Cannabis plants go through two stages of life, the "vegetative" stage and the "flowering stage."
They first go through the vegetative life stage, which you can sort of consider its "childhood" since the plant is only focusing on growing bigger and taller, and gender doesn't matter. At the beginning of this stage you usually can't tell what the plant's gender is.
However, once the plant is about 6 weeks old, it will usually show signs of "pre-flowers" which will alert you to the gender before the beginning of the flowering stage.
Pre-Flowers usually reveal the gender around week 6 from seed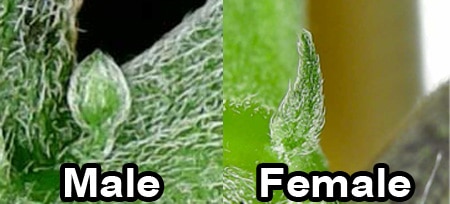 Otherwise you must wait for the flowering stage
Next, cannabis plants switch to the flowering stage which means they stop growing bigger and taller, and instead spend all their effort growing flowers (the buds we want are flowers!). The flowering stage is like the "adult" stage of a cannabis plant since at this point it's only interested in adult stuff like growing their male and female parts, then pollinating 🙂 In the flowering stage, plants start growing buds or pollen sacs in earnest. The buds we want are female flowers, so growers generally only want to grow female plants.
Growers Want Female Cannabis Plants – These Produce Bud
Regular Marijuana plants reveal their gender in two situations:
After spending a long time in the vegetative stage – some strains/plants will show preflowers (pistils for girls and "balls" for boys) during the vegetative stage if they grow old enough, even when they are constantly kept under a vegetative light schedule. For example, clones can come from plants that are several years old, so you'll see a lot of clones have female pistils showing, yet will not continue to flower any more than that until after they've been switched to a Flowering (12-12) light schedule
Otherwise, all remaining plants will reveal their gender in the first 1-3 weeks after lights are switched to 12-12, and plants enter the flowering stage of life.
When your cannabis plant is about to reveal it's gender, what you're looking for is cannabis "pre-flowers." These usually show up when the plant is around 6 weeks old from seed, but they always appear once the plant is changed over to the flowering stage.Male and female pre-flowers look different from each other (though it can be easy to confuse them at first). Sometimes it's hard to tell which is which at first, and in that case you'll just have to wait until they develop a few more flowers and it becomes more obvious.
Diagram Showing What Pre-Flowers Look Like
Male pre-flowers on left – Female pre-flowers on right
Female Marijuana Plant Pictures
Female marijuana plants take a bit longer than males to show their first signs after being changed over to flowering.
Female marijuana plants start showing one or two wispy white hairs where their buds are going to start forming.
They usually first show up where the main stem connects to the individual nodes or 'branches'.
If a female plant is kept in the vegetative stage long enough (the length of time varies depending on the strain and conditions), then she will start showing the first sign of female hairs even before you move the plant into the flowering stage by changing the light schedule.
If you see wispy white hairs appearing on your plant like the ones pictured below, then you know you have a female plant.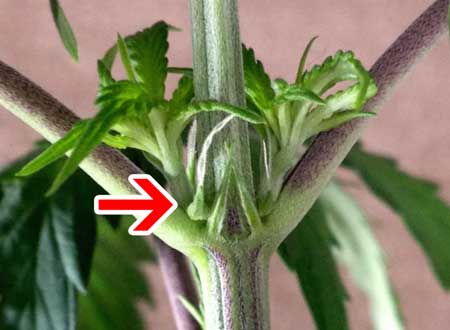 Click on thumbnails for larger picture
In this pic, you can see white pistils emerging from the calyxes. Female pistils are white and wispy, never green.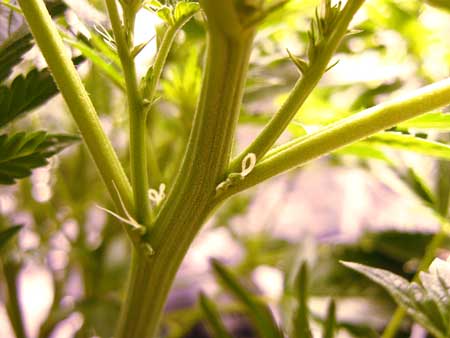 This pre-flower doesn't have a pistil sticking out at first, but the shape helps tell you it's a female plant. If you're not sure about gender after spotting a pre-flower, it's a good idea to wait and see for a little while, just to see if a white hair appears (which means it's definitely a girl)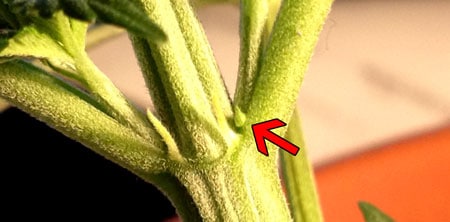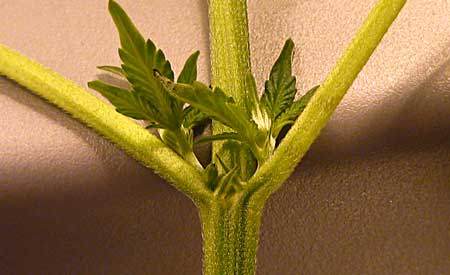 Adult Female Cannabis Plant Pictures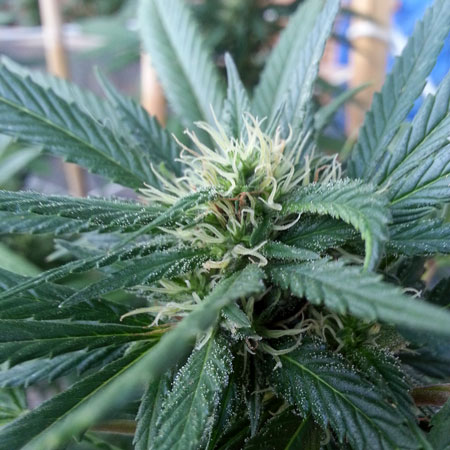 Male Marijuana Plant Pictures
Male plants have grape-like balls which form and fill with pollen. The balls will first show up a week or two after changing the plants over to the flowering stage. If the male is allowed to continue growing, eventually these pollen sacs will burst open and spill pollen everywhere.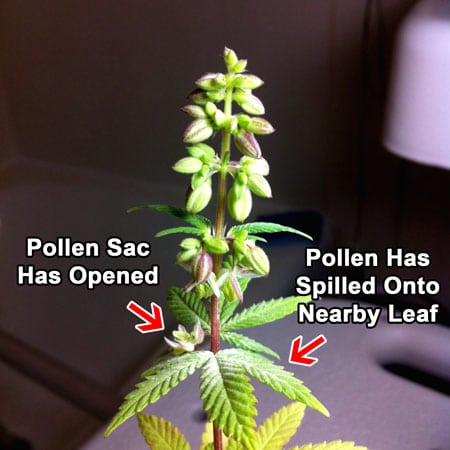 A small male pre-flower – this is what male plants look like when they first reveal their gender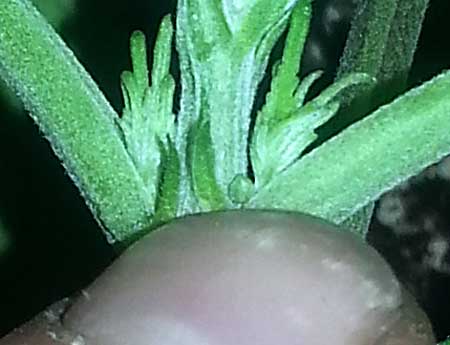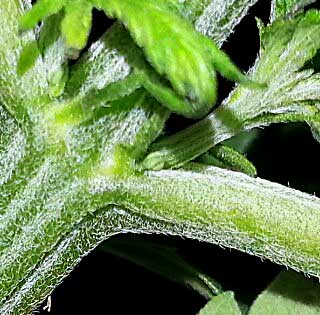 These male pre-flowers are basically immature pollen sacs. When the plant starts flowering, they will grow and turn into bunches that almost look like grapes.