Protein balls or protein bites are portable bite-sized snacks that you roll into balls. They are super easy to make with simple pantry ingredients.
Most protein ball recipes call for oats, nut or seed butter, sweetener, sometimes protein powder plus any add-ins of your choice.
Are protein bites good for you?
Homemade protein bites are not only delicious, but they are so much better for you than many store-bought snacks. They taste just like dessert but are made with wholesome ingredients are refined-sugar free.
Looking for a quick, easy low carb pick me up to pop into your bag? Try these delicious nut protein balls — they are packed with healthy protein, fats and electrolytes. They can easily be converted into protein bars too!
Made without commonly used high carb dates or sweeteners, these protein balls are a perfect afternoon or post workout snack. Feel free to mix up the flavourings, try adding cacao, as long as it fits your macros. Enjoy!
This tasty recipe should take you 10 minutes to make, 10 minutes to chill, and 3 seconds to eat!
Equipment
Blender
Large Bowl
Parchment Paper
Silicone Spatula
Cookie Sheet
Ingredients
1 cup Almond Flour
3 tbsp Almond Butter
1 scoop Keto-Friendly Chocolate Protein Powder
3 tbsp Swerve Sugar Replacement
2 tbsp Cannabis Oil decarbed
1 tbsp Coconut Oil
1/2 cup Pure dark chocolate chips
1/4 cup finely chopped nuts of choice pecans, cashews, almonds – save and roll the finished protein balls in finely chopped nuts.
1/4 cup pure shredded coconut unsweetened – use to roll the balls in at the end OR put into your mix – your choice
1 dash Himalayan salt
Instructions
Combine all dry ingredients in a large bowl and mix up very well
Add all wet ingredients to the bowl and mix, mix, mix!
When you have mixed everything up you should see a nice, firm dough-like mixture.
With cold hands ( run them under cold water) take approx one soup-spoon full of the mixture and roll into balls
If you like, you can then gentle roll the balls into shredded coconut or finely chopped nuts
Place each ball on parchment-paper line cookie sheet
Chill for 10 minutes in the fridge and enjoy!
Variations
ADD: Cinnamon, cocoa powder, extracts and flavorings, nuts, coconut, seeds
ROLL-IN: Crushed nuts, seeds, shredded coconut, chocolate sprinkles (for kids)
FLAVORED PROTEIN POWDER: Use any flavored protein powder you have that would taste great with peanut butter. Additional sweeteners can be omitted.
DIFFERENT NUT AND SEED BUTTERS: Depending on the consistency of alternate nut butters, more or less protein powder may be needed to get a less sticky dough-like consistency.
Combining the powers of keto fat bombs with a THC infusion is an innovative and healthy snack. A fat bomb is also highly adaptable. Try new nut butter, add shredded coconut or even a handful of healthy nuts. Whatever healthy fats you have in your baking cupboard make for perfect additions.
Plus, you can always experiment with potency and strain. If the coconut butter infusion turns out to be highly potent, cut the infused coconut oil with regular coconut oil. You can also try different strains for different effects. Either way, the world of infused fat bombs is your oyster!
So now you have a great marijuana edible that is keto friendly to share or keep all to your self! If you properly store these in a storage container with a lid so as to not let it absorb other flavors in the fridge these Keto coconut bombs will last quite a long time and still taste amazing!
Texture of no bake peanut butter protein balls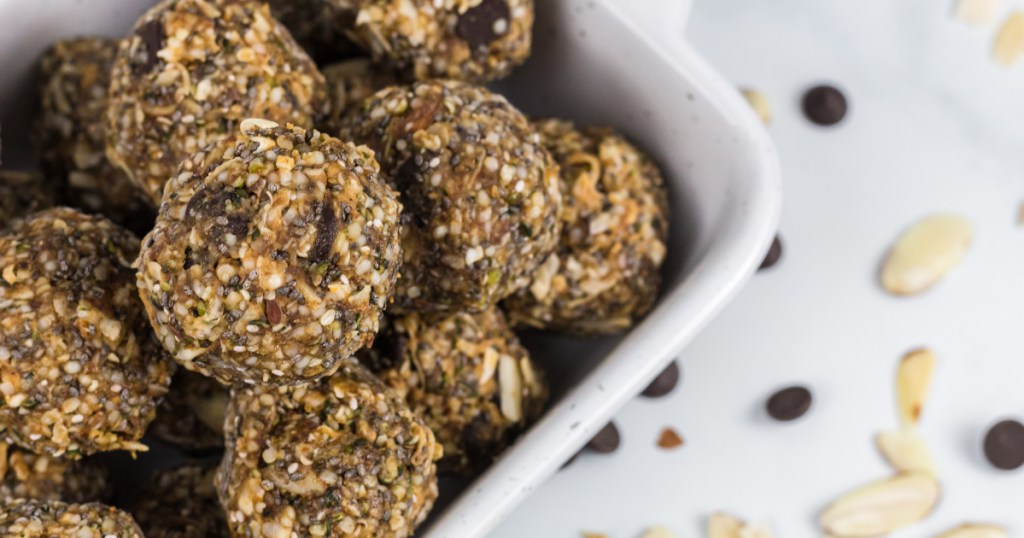 The texture of these no bake peanut butter protein balls is soft and fudgy. They are almost like a peanut butter fudge in ball form!
Usually store peanut butter fudge in the freezer, but the peanut butter balls are best in the fridge. You can still freeze them if you like them extra firm, though. If you want to bring them with you somewhere, they'll be okay at room temperature as long as it's not too warm. They are softer that way, but still very manageable.
If you prefer your keto peanut butter balls to be even firmer, feel free to add more dry ingredients. These would be the protein powder and powdered sweetener. That is the main differentiating factor between these and fudge – these have more protein!
How to store protein bites?

You can store these breakfast protein bites at room temperature but chilling them in the fridge prevents them from getting too soft or mushy.
Just place the energy balls in a single layer in an airtight container or in zip-lock bags.
Are protein bites healthy?
Protein balls are a great healthier treat option when enjoyed in moderation on a balanced diet. They are made with wholesome ingredients and packed with fiber and protein but sweet enough to satisfy that sweet dessert craving.
Cannabis and Keto Can Both Induce Weight Loss

Another similarity between the keto diet and cannabis is their effects on weight loss. This might be surprising to hear, but a growing body of evidence shows us that people who consume cannabis weigh less than those who don't. As it turns out, the lazy, stoner with the munchies is a very inaccurate stereotype.
According to a newly published study that looks at BMI and cannabis consumption, bodyweight had little to no relationship with cannabis consumption. The study surveyed 33,000 people over the course of three years. The authors noted in an interview with The Growth Op, "Contrary to the belief — that marijuana users who have a serious case of the munchies will ultimately gain more weight — those who smoke cannabis, or marijuana, weigh less compared to adults who don't."
This is food for thought. It also makes you wonder about the benefits of combining cannabis with the keto diet. Thankfully, cannabinoids work well when eaten in a fat bomb, or other super fatty substances because cannabinoids, like CBD and THC, are fat-soluble. Eaten in a butter or coconut oil, THC has a higher bioavailability than it would otherwise have.
That means that keto-friendly fat bombs are the perfect vehicle for THC edibles.
Keto protein powders to use

Using vanilla protein powder because it add sweetness with the added benefit of protein.
The net carb count will depend on what protein powder you are using. Below are a few that I have in my pantry. They have the following net carb and protein count and you can find them on my Amazon store.
Quest Protein Powder – 0 net carbs, 22g protein,
Lite Protein Powder – 1g net carbs, 10g protein,
Isopure Protein Powder – 0g net carbs, 25g protein,
CarbThin Protein Powder – 0g net carbs, 26g protein.
You can find out about baking cookies with cannabutter here!