At some point in our cannabis consumption, we've all asked ourselves, "How long is my weed good for?" Maybe you've found a few nugs tucked in your winter jacket from last year's ski trip, or when harvesting a medical crop you may need a way to safely store the excess buds until you're ready to consume the fruits of your labor.
You can find out about Smoke Weed Stems here!
Like a fine wine cellar or whiskey barrel, properly dried and cured cannabis is best when kept in a cool, dark place. While there is no steadfast expiration date for cannabis, if you store it well it should last about six months to one year before losing considerable potency and flavor.
However, before you spark up that old weed, there are a few key elements to consider when storing cannabis for any extended period.
How Long is My Weed Good For?
When it comes to storing your cannabis, the method you choose makes a huge difference in how long your buds maintain potency and freshness! But what's the best way to store weed? Is it vacuum-sealing? Will freezing your buds hurt them in any way? I've tried a few different methods for storing marijuana over the years, and today I want to share what has and hasn't worked for me!
Properly stored weed looks full and sparkly, with at least a little color life. Marijuana buds are often green with orange hairs, but sometimes you'll see other colors like purple or pink.
Improperly Stored Buds Start Turning Brown and Crumbly
Brown or tan weed isn't necessarily bad, as well-cured cannabis also loses color, but brown and crumbly nugs are often old or weren't stored in an airtight container. If there are random brown patches on otherwise good-looking weed, it could also be a sign of mold!
Note: Some people actually prefer the effects of wet-cured or very long-cured buds, which may offer unique smells and tastes. This typically causes buds to take on a mostly brown or tan appearance. Buds that are still good usually "stay together" as opposed to being crumbly. Although there are exceptions, usually buds that have turned brown are losing their overall potency and smell as time goes on.
Why proper cannabis storage is so important
Moisture is the biggest threat to the shelf life of cannabis. Overly moist cannabis can also have serious health consequences, namely by encouraging the growth of mold and mildew. These risks are so serious that the American Society for Testing and Materials (ASTM), which develops technical standards across many industries, published the "Standard Specification for Maintaining Acceptable Water Activity (aw) Range (0.55 to 0.65) for Dry Cannabis Flower" in May 2018.
The ATSM defines water activity as "the (quantitative) capability of the cannabis flower in a sealed container to affect the humidity of the container's headspace air." Headspace is the air that surrounds the flower. Water activity measures vapor pressure against pure water. If water activity is 0.55, it is 55% water.
A relative humidity level anywhere above 65% can significantly increase the likelihood that your weed will end up growing mold. According to the American Herbal Products Association, the drying process will dehydrate cannabis until it has a moisture content of less than 15%, and the curing process is where the remaining moisture is slowly removed to retain the volatile oils.
So, too much moisture is bad, but lose too much and it can change the integrity of your flower. For example, your flower could become brittle and lose essential terpenes that affect potency and taste.
Luckily, the process of striking the perfect balance starts way before you buy weed. While no two cultivators dry their flowers in the same way, all cultivators dry their flowers and then put them through a process called curing.
When cannabis is properly cured, it allows the moisture that is trapped inside the bud to slowly dissipate from the flower without damaging the cannabinoids and terpenes. Once the flower has the perfect moisture content (typically between 6% and 9%), it is placed into packaging from which excess oxygen has been removed. When you take it home, it's important to try to maintain that balance.
Proper storage involves keeping the water activity of your cannabis within a range of 0.55 and 0.65. Water activity increases with temperature, which is why light and temperature control go hand-in-hand as best practices for keeping buds fresh.
How to Store Your Weed and Keep It Fresh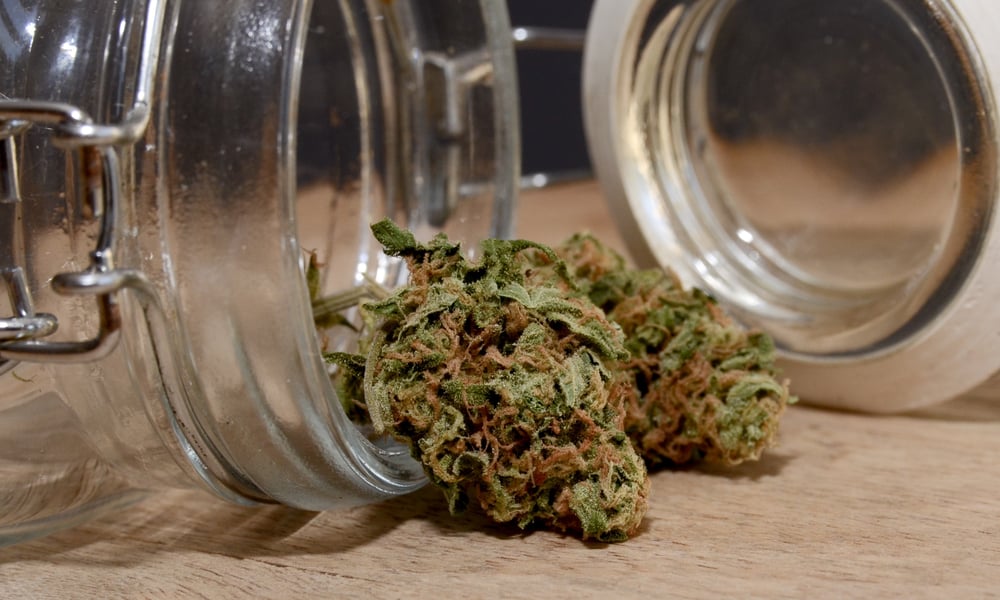 So, now that you know the enemies, you need to learn how to defend yourself and keep your weed fresh. Thankfully, it's a fairly simple process, and you may already have everything you need to start storing your weed for a long period of time.
Really, the journey to proper cannabis storage begins with the post-harvest curing process. And, funnily enough, it involves maintaining the same sort of optimised environment for your flower. You'll want to find a cool, dark, and moderately dry spot. Separate the buds, trim off the sugar leaves, and sort your stash into mason jars. Also, note that each jar should only be ¾ full.
With a few weeks of patience, you'll be rewarded with fresh, smokable flowers. If you really want to ensure freshness, though, you'll want to make sure no excess moisture gets trapped in your curing jars.
To accomplish that, we recommend utilising our specialised RQS Moisture Fighters. These plant-based sachets are designed to rest right in your stash jars, absorbing or releasing moisture according to the conditions. They'll last up to four months, and just one 8g sachet will keep your personal stash fresh. If your jar's a little heftier, there are sachets in sizes up to 67g available as well. Either way, you'll want to select the ones that maintain 58% or 62% humidity. Get the former if you're in a more humid environment, and the latter if you're living in a dry climate.
"But how will I know if the sachet is still working? Do I need to open up the jar to check?". Thankfully, no! They each feature a dot that changes colour depending on their condition, so you'll know exactly when you need to replace them.
Use Air-Tight Glass/Ceramic Containers or Vacuum Bags
Once your buds have been sufficiently cured, we'd recommend you keep them in their mason jars. Considering how much damage oxygen can do, air-tight containers are the best choice you can make for your weed.
It can't just be any container, though. As we mentioned before, plastic can actually hasten the ageing process, so Tupperware would be unwise. A glass or ceramic container, however, will keep it safe and fresh.
That being said, vacuum bags are also incredibly effective, as they're naturally devoid of air.
Along with your container of choice being air-tight and glass/ceramic, it should also be opaque. Light can wreak havoc on your cannabis, and blacking out your jars can ensure total safety. Before that, however, you should make sure your curing room is completely dark (with the lights off) to begin with. With blacked-out jars, though, you can turn on the lights to check in without worrying too much.
As it turns out, our specialised RQS Re:stash Jars fulfill every one of the requirements you need your containers to meet. They're layered with a jet-black silicone sleeve, boast air-tight lids made from hemp, and come in sizes of 4, 8, 12, and 16 ounces.
Maintain Cool Temperatures
Once you've got your buds in their containers, you'll need to make sure the room stays consistently cool: below 25.5ºC (78ºF) to prevent mould from thriving. Turning it down to 21ºC (70ºF) would be optimal.
Now, with almost everything in order, you just need to make sure things stay clean. Make sure you dust the shelves and jars, along with vacuuming or mopping the floor when needed. In turn, make sure you don't spend too much time in there, as any dirt you track in will have to be cleaned up later.