Most everyone loves a sweet gummy treat, and when it's filled up with THC goodness it's even harder to turn down. These delicious bits of cannabis candy can be a pricey purchase at the local dispensary, so why not try making your own at home? There are a lot of recipes online that say they show you how to make cannabis gummy bears in the home kitchen but results can often be disappointing – Soft, jelly-like edibles that end up turning runny at room temperature or even melting out-right.
So what if you want to make cannabis gummies that have real store-bought quality? Turns out there's a secret ingredient used by the pros in their weed gummy recipes that makes the difference between a snappy, chewy gummy and a soggy, weepy mess. It's time to break out your chefs hat and arm yourself with your favorite whisk – We're going to talk about the science of how to make cannabis infused gummies in your very own home.
What are weed gummies?
On the surface weed gummies look a lot like regular, non-THC gummy snacks, and the temptation can be to look up a regular gummy candy recipe and follow that, simply adding in a bit of concentrate as you go. To understand why that won't work let's discuss candy making for a moment.
Candy making is, at it's most basic level, the act of taking sugar and cooking it until it melts; add nothing (or a bit of water) and the sugar turns into a brittle hard candy when it cools. Add gelatin and the sugar will set into a gelatinous or spongy form, resulting in gummies or marshmallows. Add an oil or fat, such as butter, and you get a chewy, soft caramel. And it's right there where the problem comes in.
THC concentrate of any fashion is always an oil; even THCA diamonds and shatter, both of which are set and hardened, turn into an oil on applying heat. Once you add enough oil to your candy it will not set properly – Oil does not want to combine with the hard, crystalline candy structure, a process referred to as "emulsification". Without proper emulsification you'll get candy that's runny, tacky to the touch, or weeps liquid.
What You're Going to Need
Before we get into the ingredients and directions, we're going to need a few things:
Cooking Pot
Plain unflavored gelatine
1 pack of flavoured gelatin/jello mix (85g)
1/2 teaspoon sunflower/ soy lecithin (Optional)
Gummy bear mould
whisk
Stove
Cannabis-infused coconut oil CBD or THC (coconut oil, solid at room temperature)
We use organic coconut oil when we make our infusion. Here's a link to the refined coconut oil that we use.
If you don't have cannabis-infused coconut oil, we have a comprehensive guide to making it here.
Why make THC gummies?
Smoking is the most common way of getting consuming cannabis — and for good reason. It's easy, fun, and more or less 100% of the time it works every time. But comparing smoking weed and eating edibles is like comparing water polo and synchronized swimming — they're both played in a pool and both are good ways to waste the whole afternoon, but they're still very different sports.
When you eat edibles, the high can be totally different from smoking. It's an immersive experience that you can feel tingling across your whole body, creating a happy, giggly, often downright euphoric feeling that can have you glued to the couch or laughing at the screensaver on your TV for hours. Because they can take well over an hour to kick in and the high can last for a few hours, they may not be the most convenient everyday sort of high, but make no mistake — edibles can be well worth it.
Also, if you're trying to avoid smoking but still want to get high, or you'd like a way to take your medicine without stinking up the house, edibles are a convenient treat that's hard to beat
Weed Gummy Bears Recipe
Prep Time:5 minutes Cook Time:15 minutes Cooling time:25 minutes Total Time:45 minutes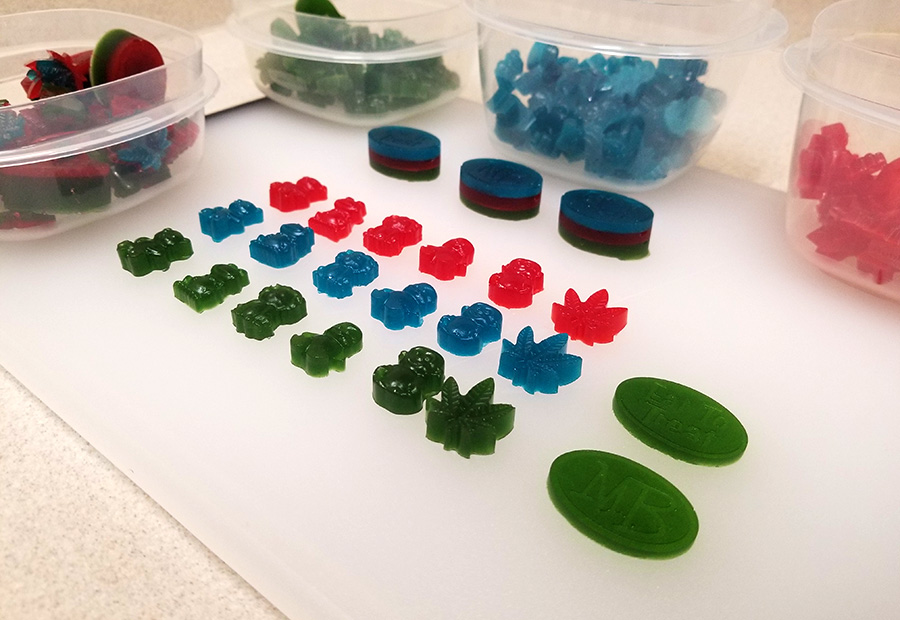 Equipment
Stove
Cooking Pot
Whisk
Gummy Bear Moulds
Dropper
Freezer
Ingredients
1/2 Cup Cannabis-Infused Coconut Oil (Refined coconut oil, solid at room temperature)
1/2 Cup Cold Water
85 Grams Packet of Flavoured Gelatine *One Jell-o Pack
2 Tablespoons Plain Unflavoured Gelatine (20 Grams)
1/2 Teaspoon Sunflower / Soy Lecithin (liquid lecithin) (Optional)
US Customary – Metric
Instructions
Turn your stove on low heat. In a pot, add water, the cannabis-infused coconut oil, and the sunflower/soy lecithin.
Continue stirring the mixture until it has a consistent texture and the coconut oil has completely melted. Now, add in the flavoured gelatin and the unflavoured gelatin while continuing to stir throughout this process.
Whisk extensively on low heat for 10-15 minutes until the gelatine is completely dissolved. Make sure it does not come to a boil. But, you need to make sure that all the ingredients are thoroughly combined. (Don't stop stirring this mixture for the entire 15 minutes)
While leaving the pot on the element, start filling up the gummy bear moulds with a dropper (a dropper is a mini turkey baster that comes with most gummy bear moulds). Make sure to move quickly. If your liquid starts to separate, it's because the mixture has started to cool. It's critical that you move fast otherwise the oil may separate in the pot. You need to continue whisking throughout the pouring process otherwise the mixture may start to harden and stop binding. (The secret to making great infused gummy bears is pouring the mixture into the moulds as fast as possible.)
Put the gummy bear moulds into the freezer for 20-25 minutes. (Pro tip: lift the mould 2 inches off the table and drop it. This will let the mixture fill any air pockets.)
Bon Appetite!
Notes
Optional:add a 3/4 tsp of citric acid into the mixture, use lemonade instead of water, and once the gummies come out of the freezer coat them in sugar. If you're using potent cannabis oil, this should help with the taste.Store in the refrigerator for best results.
Nutrition
Calories: 109kcal | Carbohydrates: 7g | Protein: 2g | Fat: 9g | Saturated Fat: 8g | Sodium: 36mg | Fiber: 1g | Sugar: 6g
You can find out about Baking Cookies With Cannabutter here!