The ghoulish season is here, and many of us are planning some weed-related activities and events for our Halloween parties, but good inspiration can be hard to find. Since weed cookies are a huge favorite among consumers, we thought we'd offer up an easy, no-bake cannabis dessert recipe. This one takes mere minutes to make and will keep you and your guests coming back for more.
If that sounds too good to be true, then you aren't alone as many people assume that the process of learning how to make edibles must be a tricky road that takes prior knowledge, but you'd be surprised to find how many easy cannabis-infused dishes can compete with only one extra ingredient on hand, cannabutter.
This weed cookies recipe is intended for more experienced users, so if you are new to edibles, then you might want to either adjust the amount of cannabutter by adding an alternative like cream cheese to soften the icing mixture or split the serving in half to avoid any potentially uncomfortable or overwhelming effects.
That sweet and creamy white goodness that we all know and love from the center of an Oreo is something that simply cannot be beat. It's thick, which makes it go down so much better with a big glass of milk, and it's absolutely full of sugar, without being too sweet, and that's why it's something that is enjoyed by people of all ages.
Unfortunately, the big cookie giant has yet to sign on with the cannabis industry, so for now, the only thing available is the regular old non-infused version, which is good, but there is no doubt that it can be better, and we've figured out how to do that without ever needing to turn on the oven. That's right, it takes mere minutes to turn regular Oreo cookies into skins for a cannabutter filled delight, and we're going to show you how to do it.
It's a universally established fact that there's a strong bond between cannabis aficionados and Oreos. This super delicious cookie treat has provided munchie-driven cannabis consumers with tasty memories for eons. We decided to step it up a notch by providing you with a recipe merging Oreos and cannabis.
Here's an easy recipe, since your attention span may be playing tricks on you. The concept here is simple—covering Oreos with cannabis-infused white chocolate.
No baking necessary!
If you're wondering how we're going to make Oreo cookies without baking, don't worry, as it's as simple as adding a box of regular Oreo cookies to your grocery list. Since there is virtually no way to recreate the traditional Oreo from scratch, and we're aiming for a flavor that competes with the real thing, it's just way better to start with the things that you already know you love while avoiding slaving over a hot oven to make it happen.
Ingredients:
1-1 ½ ounces of finely ground marijuana, trim or buds
28 ounces of cooking oil
Preparing your cannaoil:
Heat your oil in the saucepan on a low to medium heat. Make sure that it doesn't boil;
Once hot, drop in the 1-1 ½ ounces of fine ground cannabis and stir thoroughly
The key here is to stir, so that the oil doesn't get too hot.
Once you have been slow cooking the buds for approximately 1.5-2 hours, take them off the stove.
Pour the mixture through a cheesecloth and into the container that you will be keeping your silky Canna-mixture
Place the jar of Canna Oil in a dark place or in the fridge for storage
Preparing your homemade oreos
Ingredients for your cookies:
1 cup unsalted butter (room temperature)
1 cup granulated sugar
1 egg (room temperature)
1 teaspoon pure vanilla extract
2 cups whole-wheat flour
¾ cup cocoa powder
1½ teaspoons baking powder
1 teaspoon salt
Ingredients for your filling:
½ cup unsalted butter (room temperature)
1 tablespoons half-and-half
1 tablespoon Cannabutter (melted)
1 teaspoon pure vanilla extract
Pinch of salt
3-3½ cups powdered sugar (sifted)
Time to make your weed oreos!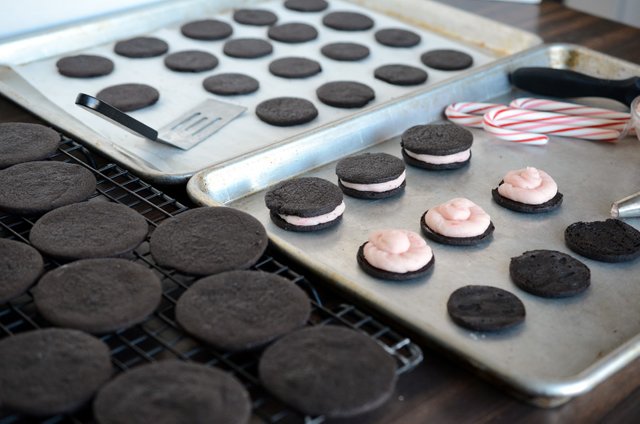 After preparing your cannaoil and getting the rest of your ingredients it is finally time to make your cookies.
Cream and mix the butter and granulated sugar until it's throughly mixed. Add the egg and vanilla, continue to mix.
In a mixing bowl, sift together the whole-wheat flour, cocoa powder, baking powder, and salt. Make sure there are no lumps until all the lumps disappear.
Add the sifted mixture to the butter mixture, and mix on low speed. Make sure everything is mixed. Even the bits that stick to the side of the bowl
Divide the dough in half, wrap, and refrigerate for 1 hour.
Preheat the oven to 350F, and line a baking sheet with parchment paper. Roll out the dough onto a lightly floured surface, less than ¼-inch thick.
Cut the shape of your choice (we use a round biscuit cutter), and bake for 10 to 13 minutes until set.
Now to make your filling:
Once the cookies are baked and cooled, its time for that amazing filling.
Combine the butter, half and half, canna-butter, vanilla, and salt until well incorporated. The mixture will be lumpy, so scrape often.
Add sugar and mix on low speed until it's all mixed well.
Once ready, simply spread some filling on one cookie and cover with another. It's that easy
If you've got any left over you can save it in a jar for up to 20 days in the fridge.
Oreo-maker Mondelez eyes CBD-infused snacks
Cannabis aficionados everywhere may finally get their wish as Oreo-maker Mondelez eyes adding CBD-infused snacks to its product line, which includes Chips Ahoy cookies, Cadbury chocolate, Nilla Wafers and Nutter Butter cookies.
"Yes, we're getting ready, but we obviously want to stay within what is legal and play it the right way," CEO Dirk Van de Put said Wednesday on CNBC's "Squawk on the Street."
Although he dashed hopes that consumers would get CBD-infused Oreos, saying that the non-psychoactive compound in cannabis might not be a fit for the company's family brands, the company could add the ingredient to other products or even create new product lines.
A number of start-ups have already started selling CBD-infused food and drinks, but larger companies such as Mondelez and Coca-Cola are still sitting on the sidelines while federal health officials weigh new rules regulating the industry. Van de Put predicted the ingredient will hit the mainstream food market in the "not-so-far future."
In December, President Donald Trump legalized most products containing CBD when he signed the farm bill into law. Since then, retailers such as Walgreens and CVS have started selling a limited number of CBD products such as lotions and creams. However, the Food and Drug Administration prohibits adding the compound to food or beverages. In response to pressure from Congress, the regulator has set its first date for public hearings on the matter for next month.
"The space is not clear," Van de Put said. "It's a bit clearer in non-food products. In food products, I'm hoping that the FDA will bring some clarity in the coming months."
Professional chefs have named CBD- and cannabis-infused food as the top food trend of 2019. CBD in particular has been gaining buzz for health benefits, such as easing pain and managing anxiety. Little scientific research has been done to support those claims. Mondelez is also looking into those claims, Van de Put said.
Shares of the company were up 1% in morning trading Wednesday after Mondelez reported earnings Tuesday night. The stock, which has a market value of $74.14 billion, has risen 28% so far this year.
Mondelez reported adjusted earnings of 65 cents per share, topping analysts' expectations of 61 cents per share. But the company fell just short of estimates for revenue, reporting net sales of $6.54 billion. Wall Street was expecting the company to report revenue of $6.55 billion.