There are two kinds of stoners: the kind that likes to binge on TV shows and the kind that likes a movie marathon. We don't all have the same attention span, right? Well, the canon of cannabis themed movies, along with binge-worthy TV shows is, quite frankly, enormous. We took the liberty of compiling the best ones of all time – yes! Of all time!
Wild imaginings of people gone mad; an 80-year drug war that has killed hundreds of thousands and imprisoned millions; smuggling, conspiracy, corruption, violence, and the unique relationship between dealers and their customers, these are just some of the explosive narratives that inspire the canon of cannabis themed movies. Let's check out some of the best cannabis themed movies before moving on to TV shows.
Stoner-Friendly TV Series to Watch on 4/20
Sasquatch (Hulu)
"I've been witness to a lot of crazy stories," says the journalist David Holthouse in the first episode of this unusual three-part crime docuseries. "But the one about a Sasquatch wasting three dudes in dope country is bar none the craziest." What sounds like the beginning of a spooky campfire yarn is actually the inexplicable memory of a night in the fall of 1993, when two terrified guys rolled up to the Mendocino County home where a 23-year-old Holthouse was visiting a weed-grower friend, claiming to have three found bodies that had been torn apart by some kind of monster. The crime was never reported. So, decades into a career that had sent him on high-risk investigations of neo-Nazis, meth addicts and, most poignantly, the man who raped him when he was a child, Holthouse decided to find out what (if anything) really happened that night.
There are certainly some oddballs in Sasquatch: paranoid hippie pot farmers, cryptozoology obsessives, two men described as "Sasquatch hunters/life partners" who seem to have an ongoing disagreement over whether Bigfoots can teleport. But this is not Tiger King; its purpose is not to poke fun. Though it's a shame so much of it unfolds in phone calls with subjects who wouldn't speak on-camera, Holthouse's investigation feels genuinely dangerous. And after reeling us in with a supernatural mystery, he and director Joshua Rofé (both executive producers, as part of a team that also includes Mark and Jay Duplass) unearth a true story that touches some of America's sorest spots, from the War on Drugs to racism and xenophobia.
Cinema Toast (Showtime)
It's a classic film-school assignment: edit together found footage in the public domain to create your own transformative work. The result, like so many student films, tends toward some deeply derivative combination of cheeky, kitschy and surreal—the kind of thing you'd only want to watch if your grade or livelihood depended upon it. But what if you were to pose this same found-footage challenge to directors, writers and performers at the top of their game?
This is precisely what creator Jeff Baena (the filmmaker behind wonderfully raunchy historical comedy The Little Hours) and producers the Duplass Brothers (who seem to be cornering the market on 4/20 television) have done in Cinema Toast. As a way of passing the time amid the past year's pandemic-related production shutdowns, creators such as Aubrey Plaza, Jay Duplass, Alex Ross Perry (Her Smell) and Numa Perrier (Jezebel) made half-hour film collages, swapping original actors' voices for those of famous friends (Alison Brie, Christina Ricci, the Offerman-Mullallys). While a project of this nature is always going to end up somewhat uneven, most of the show's 10 very different episodes are a blast. We get an amusingly histrionic psychological thriller from Plaza and a clever Ronald Reagan pastiche from Duplass and actor-producer Ethan Sandler. Horror fans will recognize plenty of Night of the Living Dead footage in "Attack of the Karens," from the accomplished TV director Marta Cunningham. My favorite of the bunch, for sheer commitment to a weird bit, is probably Perry's episode, a red scare sendup that imagines a sinister Soviet plot to mind-meld the two things postwar American families loved best: dogs and cars.
Chopped 420 (discovery+)
Shows that combine weed and food are kind of a no-brainer, and they're certainly nothing new for nonfiction TV. VICE's Bong Appétit, which challenged notable chefs to cater themed, cannabis-infused dinner parties, ran for three seasons beginning in 2016 (and is now available to stream on Hulu). Netflix got into the game a few years later with the lackluster competition Cooking on High; its apparent replacement, 2020's Cooked With Cannabis, was essentially Chopped, but with gourmet edibles and lots of giggly chatter among the G-list celebrity judges.
So it was probably inevitable that Chopped—a consistent ratings driver for Food Network, which has cranked out well over 500 episodes of the show since its 2009 debut—would complete the circle with its own herbaceous take on the cooking competition. Better yet, that spinoff lives on parent company Discovery's new subscription service discovery+, where it's likely to reach a younger, more 420-friendly demographic than it would have on cable. The extremely watchable Chopped 420 doesn't fundamentally reinvent the Chopped format, nor does it need to. The biggest difference is the personnel. In place of Ted Allen, we get the always hilarious, never irritating comedian and actor Ron Funches. Alongside the top-tier chefs, the judging panel rotates in familiar faces like Drag Race alum Laganja Estranja and comic Taccara Williams.
10 shows about weed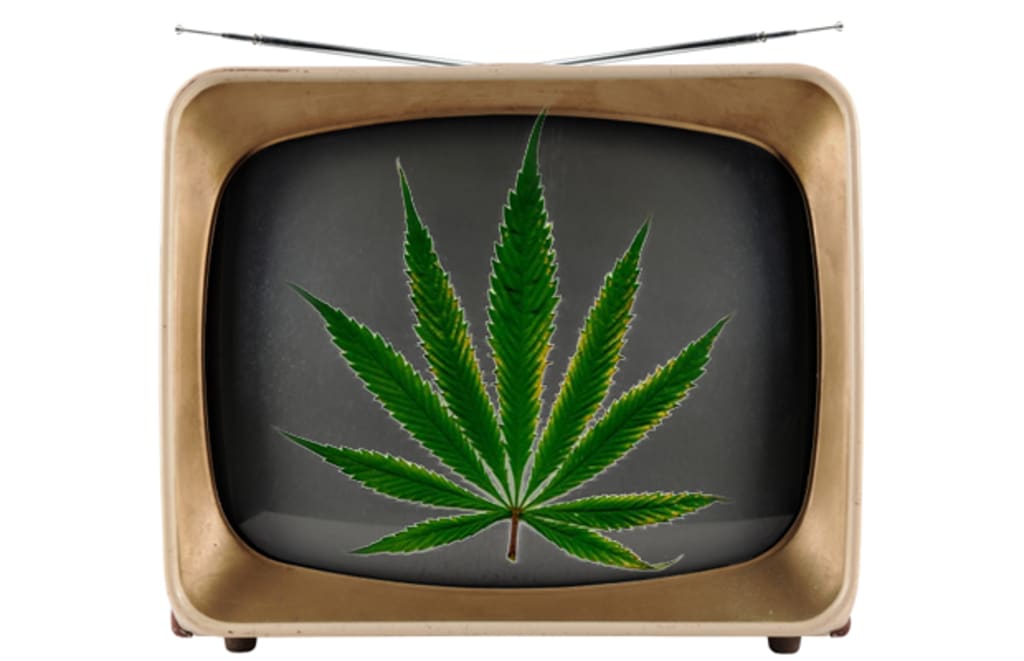 High Maintenance
This gem, now on HBO, started as video shorts on the Vimeo, and back in 2015 I interviewed show creators Katja Blichfeld and Ben Sinclair. Openly inspired by cannabis consumption in New York City and The Guy (Sinclair) who delivers it to them, the series has been described as largely plotless, and shows a twisty and humane exploration of the people of New York City and their relationship with weed and each other. 
Disjointed
Surprisingly, this Netflix vehicle starring the eminently talented Kathy Bates, never really caught on with viewers and was canceled after two seasons. The comedy series centered on Ruth Whitefeather Feldman (Bates) as she tries to run her Los Angeles-area cannabis dispensary with the help of young budtenders, including her son.
Touching on serious issues that intertwine with the cannabis industry — including cannabis and mental health, activism, and misconceptions about stoners — the show also featured cannabis legends Cheech and Chong. 
Grace and Frankie
Though this show is not about exactly weed, the writers of this series are making at least one thing clear: all people of all ages consume cannabis.
Starring comedy icon Lily Tomlin and actress and activist Jane Fonda, Tomlin's character Frankie — a stereotypical throwback from the free love era — consumes cannabis with abandon and on the regular. And so do Grace's children, the ferociously wry Brianna and mommy-worn Mallory. In fact, in sunny San Diego where the show is set, cannabis is as natural and normal as botox and yoga, and a part of life for the show's characters. 
Broad City
Created by and starring real-life friend duo Ilana Glazer and Abbi Jacobson, Broad City ran on Comedy Central from 2014 – 2019 and was loosely based on their relationship and their attempts to "make it" in New York City.
While shows in the past have offered many different takes on male stoner duos — think Cheech and Chong, Harold and Kumar, Jay and Silent Bob — Broad City presented viewers with something new: a female stoner duo. It also received loads of critical acclaim and maintains a cult following today. 
Dope State
This new series follows the adventures of freelance cannabis journalist Tyler Gopnik (Gabriel Sunday) as he covers California's cannabis scene. A mockumentary lampooning the often overly serious coverage of vice reporting, the series is unafraid to dig in to some of the archetypes emerging in the current industry, including dealers turned "weedtrepreneurs," overeager THC-infused beverage purveyors, slick and insincere influencers, and other poseurs orbiting the cannabis galaxy. 
Weeds
This dark comedy-drama created by Jenji Kohan premiered on Showtime in 2005 and ran until 2012. After the death of her husband, newly-widowed mother of two Nancy Botwin (Mary Louise Parker) turns to selling weed to make ends meet. A show about a woman selling weed seems ahead of its time given its 2005 debut, but at the time it earned Showtime their highest ratings.
Weeds also went on to win two Emmys, a Golden Globe, and a Writer's Guild Award, among others. Fans of its original run can cheer at the news that a sequel is in the works that will reunite Parker and co-star Elizabeth Perkins. 
Bong Appetit
Fans of The Great British Bake Off might love this weed-flavored take on cooking under pressure. Initially, the show followed host Abdullah Saeed as he threw parties where chefs were tasked with preparing elaborate, multi-course cannabis-infused meals for party guests.
Viceland, who produces the series, says that Bong Appetit features "the biggest selection of marijuana ingredients ever assembled." Newer episodes take on both food and topics like social justice and feature a trio of hosts, including B Real, Vanessa Lavoroto, and Miguel Trinidad.
That 70's Show
Even though the word "marijuana" was said only once on the show that ran from 1998 – 2006, it was about teenagers in the 70s who were down in their parent's brown-paneled, shag-rugged basement, listening to music and smoking weed.
Starring people we still remember, likeTopher Grace and real life couple Ashton Kutcher and Mila Kunis, the show also co-starred a member of the unofficial (and imaginary) Stoner Hall of Fame, Tommy Chong. 
Cooking on High
If you're anything like me, every now and then you like to watch what I call "train wreck TV" because it's so bad you can't look away. Cooking on High, another cooking competition show, premiered on Netflix in 2018. It centers on preparing food with cannabis as an ingredient, and the guest chefs are cannabis professionals who use cannabis-infused foods as part of their larger careers as private chefs and medical marijuana educators.
The series, hosted by famous YouTuber Josh Leyva, was widely panned, though cannabis activist and comedian Ngaio Bealum received high marks for his segments on the science of cannabis cooking and short blurbs on the "strain of the day."
Atlanta
A world away from Cooking on High is Atlanta. From creator and multi-hyphenate Donald Glover, Atlanta is a thoughtful and pointed exploration of trying to make it in the Atlanta rap scene that also features cannabis.
In a 2018 interview with The New Yorker, Glover said that "anxiety, fear, and stress are all reasons why the characters in Atlanta smoke [weed]." It's estimated that Glover's character Earn is either rolling or consuming cannabis in 90% of his scenes. Another character, Paper Boi (Brian Tyree Henry) sells cannabis among other drugs, but the show's writers do not shy away from storytelling about the risks of working in illicit markets and the reasons why people might make those choices.