This is a fun way to bolster your beauty routine with CBD. Check out these three CBD beauty recipes that you can make at home, in minutes. Excitingly, these CBD products take little effort. Whether you're hosting a gathering, or going at this alone, you can follow these recipes and add to your CBD beauty arsenal. Learn to make a CBD sugar scrub, a CBD face mask with avocado and greek yoghurt, and a cannabis lotion with CBG and CBD.
Remember, these CBD beauty products make excellent gifts! Dress up the jars with some beautiful ribbon, or twine. Or, create gorgeous labels that tell you what CBD products are inside. If you're looking to give a thoughtful gift with CBD, these cannabis beauty recipes work perfectly. Check out the video and recipes below!
CBD Sugar Scrub: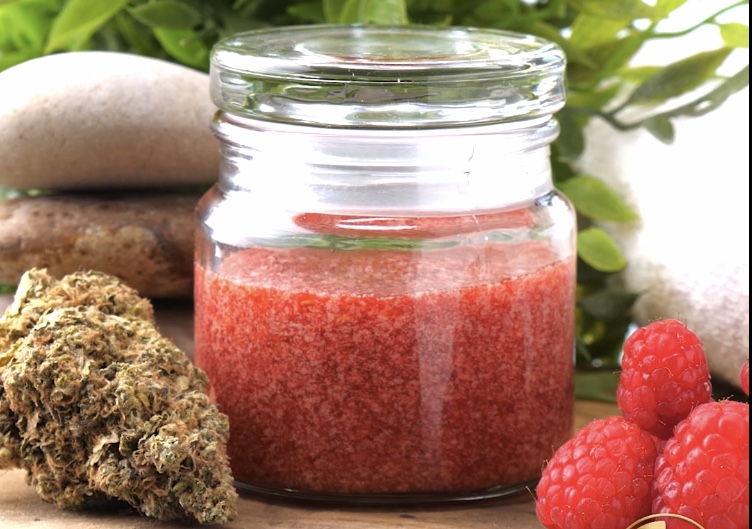 A simple all natural cannabis sugar scrub recipe with CBD oil.
Learn how to make a CBD sugar scrub with raspberries and CBD oil! This face scrub only takes 10 minutes to create and it smells super refreshing. Simply apply to your face when it is finished, and rub on in gentle circular motions. Rinse off, and pat dry when you're all done applying. Use our CBD face scrub to gently remove flaky skin, or cleanse off your makeup at the end of the day. This CBD scrub with coconut oil may leave your skin feeling soft, supple and smooth.
You can find out about Marijuana muffins here!
Equipment
Ingredients
50 mg CBD oil
1/4 cup Raspberries
3 tbsp Light brown sugar
1 tbsp Organic honey
1 tbsp Coconut oil Organic
5 drops Tea tree essential oil optional
Instructions
Combine all ingredients together in a blender.
Pulse blend untill raspberries are fine and the sugar is blended into fine particles.
Store your CBD scrub in a glass jar and refrigerated for up to 5 days.
Notes
Directions: use a small amount of CBD sugar scrub on a cleansed face. Lightly scrub in a circular motion. Leave the scrub on for a couple minutes before rising off with water.
CBD face mask with avocado and greek yoghurt: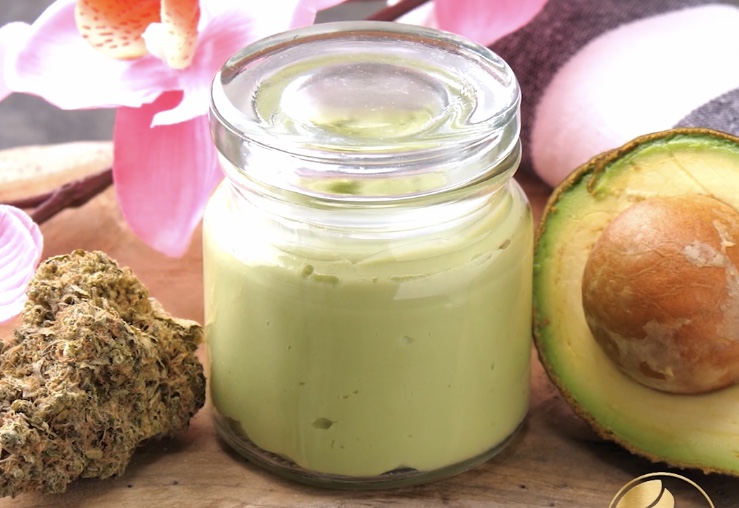 This cannabis skin care recipe contains both CBD and CBG oil with natural ingredients. It is for all skin types with the intention to beautify skin using hemp.
This cannabis face mask is super rich and loaded with moisture. The unique blend of CBD oil with greek yoghurt and avocado is like food for your skin. With the added ingredient of CBG oil, this cannabis mask is the ultimate weed face mask of your dreams. Apply a quarter size dollop of our CBD mask to your face, and spread evenly. Leave on for 15 minutes and rinse thoroughly with water. Pat your face dry and enjoy the feel of your luxurious skin. This CBD face mask is the perfect addition to your cannabis beauty routine!
Equipment
Ingredients
50 mg CBD oil
20 mg CBG oil
1/2 piece Avocado
1 tbsp Greek yoghurt
5 drops Vitamin-C oil
Instructions
In a blender, mix together all ingredients untill the cbd skincare mixture is smooth.
Store in a glass jar, refrigerated up to 3 days.
Notes
Direction: Use this cannabis face mask after exfoliating with scrub. Gently massage the mask all over your face and leave it on for 15 minutes before rinsing off with water.
How to make cannabis lotion with CBD & CBG:
Learn how to make this weed topical in minutes with CBD oil and CBG oil. You can put this cannabis beauty recipe together in minutes! It is very easy to apply and you can use this cannabis lotion for face and body. Scoop up a quarter size dollop and add to your skin. Smooth evenly over the area and rub in until absorbed. This weed topical will not make you high, but provides you with the unique cannabinoids for weed beauty. In addition, the refreshing scent of orange will awaken your senses. This cannabis topical lotion may just become your favorite moisturizer!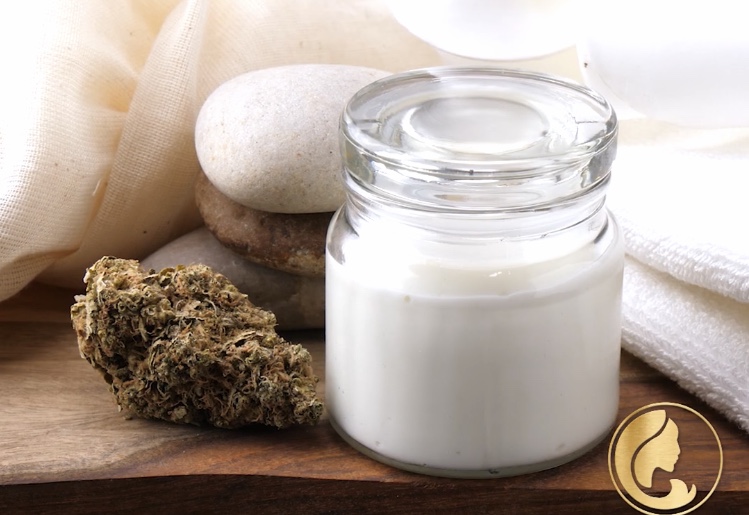 This all natural CBD lotion works amazing and is very easy to make. The recipe uses essential oils in combination with CBD, hemp seed oil and CBG. The perfect combination to make an effective cannabis cream for beauty.
Equipment
Hand mixer or whisk
Glass jar for storage
Ingredients
50 mg CBD oil
20 mg CBG oil
4 tbsp Aloe vera gel (store bought)
1/2 tbsp Hemp seed oil
1/2 tbsp Jojoba oil
5 drops Sweet orange essential oil optional
5 drops Rosehip oil optional
Notes
Directions: You can use this CBD moisturizer daily for both face and body. Gently massage the cream on your face and let it absorb into your skin.
How to Make Homemade Cannabis Salve (CBD or THC)
To grow and make your own medicine… that is the stuff that dreams are made of, am I right?! We like to use our organic homegrown cannabis in a variety of ways, but making topical cannabis salve is on the top of the list. Cannabis salve can help to reduce inflammation, soothe skin irritation, joint pain, and more! It also happens to be quite simple to make your own cannabis salve, and easy to customize it to suit your needs.
Read along to learn how to make cannabis salve in 4 simple steps. With this recipe, you can use marijuana, hemp, high CBD, high THC, raw cannabis, decarbed cannabis, or any combination thereof! (Depending on what is legal and available in your area of course.) Let's talk about benefits of each of those, how cannabis salve works, and what awesome healing potential it has.

Disclosure: This post may contain affiliate links to products for your convenience, such as items on Amazon. Homestead and Chill gains a small commission from purchases made through those links, but at no additional cost to you.
You can find out about Smoking Glycerin Tincture here!

What is Cannabis Salve

Maybe we need to step back a moment. How about, "what is a salve?". A salve is simply the term for a healing solution that you put on your skin, including creams, ointments, or balms. Generally, salves are fairly thick, shelf-stable, and include nourishing oils such as coconut oil, olive oil, sweet almond oil, or others.
In our cannabis salve recipe, we prefer to use mostly coconut oil, because it is full of saturated fat that binds well with cannabinoids. It is also ultra-moisturizing. We also add a dash of olive oil to increase absorption and smoothness. To learn more about various carrier oils, check out our homemadecalendula oil article – where I discuss the pros and cons of a dozen different oil options!
Salves also typically contain waxes or butters to bind the ingredients and make them semi-solid at room temperature. Beeswax is a popular option because it is readily available, easy to work with (especially when purchased in pastilles), and creates perfectly smooth results. See the ingredient list below for recommended vegan substitutions.
When cannabis is added to salve as an ingredient… voila! You've got yourself a cannabis salve. The most common way to add cannabis to a salve recipe is to create a cannabis-infused oil first, and then combine the oil with the other salve ingredients.
Therefore, that is exactly what we're going to do in this recipe: make cannabis oil, and then the salve. But first: "what kind of cannabis should I use in my oil or salve?"

Using Decarboxylated or Raw Cannabis in Salve

How about a little bit of both?

If you aren't familiar with the term, decarboxylation is the process of heating cannabis at an ideal time and temperature to transform raw cannabinoid compounds from their "acid" form to more active and potent versions. For example, CBDA and THCA are changed into CBD and THC respectively. Decarboxylation naturally occurs when cannabis is smoked or vaporized, but it needs to be accomplished by other means when using cannabis in oil or salves – such as by heating it in the oven. (Read more about decarboxylation here)
The medicinal benefits of decarboxylated THC and CBD are well-documented. Both are anti-inflammatory, anti-microbial, high in antioxidants, relieve pain, relax muscles, and suppress tumor growth. This is especially true when they're used and work together, known as the "entourage effect". THC is a particularly powerful analgesic (pain-reliever). CBD has even more expansive healing applications, and can help relieve seizures, rheumatoid arthritis, and psoriasis. That said, we definitely want to reap those benefits and use decarbed cannabis in this salve recipe!
On the other hand, emerging studies are revealing that raw THCA and CBDA have some pretty groovy perks too. THCA is showing a promising ability to reduce inflammation, muscle spasms, arthritis, and cancer. CBDA also fights inflammation and tumor growth.
Beyond CBD and THC, there are dozens of other compounds found in cannabis that may produce individual, interactive, or synergistic benefits, including phytocannabinoids, flavonoids, and terpenes. It should be noted that THC is psychoactive and CBD is not, though that doesn't matter all that much when making a cannabis salve intended for topical use only.
Considering all of this, we like to use both decarbed and raw organic cannabis (containing both THC and CBD) to create a full-spectrum, well-rounded, ultra-healing finished product.

What Can Cannabis Salve Be Used For?

Cannabis salve is stellar at relieving many ailments! First of all, coconut oil and olive oil are extremely nourishing on their own – so you're going to get plenty of moisture from your salve to heal dry, cracked, or otherwise irritated skin. If you add a few drops of essential oils to your salve, you'll also get the benefit of aromatherapy.
The healing properties of your homemade cannabis salve may vary slightly depending on what type of cannabis you use. In general, cannabis salve can be used to treat or relieve the following :

Psoriasis
Eczema
Rashes, itching, or other skin irritation
General inflammation
Sore joints
Arthritis
Muscle aches
Carpal tunnel syndrome
Irregular cell growth (e.g. skin cancer cells)

Personally, I like to rub a little cannabis salve on my tight and sore neck muscles, shoulders, wrists, knees, elbows, ankles, bottom of my feet, and behind my ears. Hey, all this gardening (and sitting to blog) does a number on my body!
HOW TO MAKE HOMEMADE CANNABIS SALVE

Supplies Needed
7-10 grams of decarboxylated cannabis (ground or torn to fairy small pieces). If your cannabis is not yet decarbed, see Step 1 in the instructions below.
1 ½ cups of coconut oil OR, 1 ½ cups of already-infused cannabis coconut oil (*see notes about using different types of oil below)
Optional: 5 grams raw cannabis, dried and cured.
1/3 cup olive oil
1/3 cup beeswax pastilles (vegan option: replace with the same amount of organic soy wax, candelilla wax, or carnauba wax)
Optional: Essential oils of choice. I like using this certified organic lavender oil. Tea tree, peppermint, rosemary, lemon, or eucalyptus are also great choices!
Optional: 1 tablespoon of shea butter or 1 teaspoon of vitamin E oil for additional antioxidants and moisture
A double-boiler, or make-shift double boiler – such as a glass pyrex bowl or stainless steel bowl perched on top of a saucepan with water below
Cheesecloth (if your cannabis oil is not already made)
Mixing bowl
Glass jars or salve tins, for storage
Recommended: probe thermometer