Do you love the taste of Twix chocolate bars? Are you a cannabis enthusiast? If your answer is yes, this recipe is perfect for you!
This mashup of cannabis and twix is absolutely delicious and easy to make! Put this weed infused tweedix cookie recipe together in under and hour. If you're craving chocolate and hoping to medicate, follow this step-by-step recipe for tweedix cookies.
This requires cannabis butter, here's how to make it:
If you're feeling weary, do not worry! Cannabis butter (cannabutter) is simple to make. If you browse through our recipes, it is highly noticeable the many weed infusions call for cannabutter. Create this cannabis recipe base to up your cannabis edible game. This staple is great for sweet weed treats and savory cannabis dinner recipes.
Choose a strain of cannabis that works for your needs. If you are looking to elevate, it is best to choose a weed strain that is high in THC and low in CBD.
If you are looking to consume cannabis foods without the high, it is best to infuse with a marijuana strain that is high in CBD and low in THC.
Consult your local cannabis dispensary representative to ensure you get the best type of weed for your personal needs.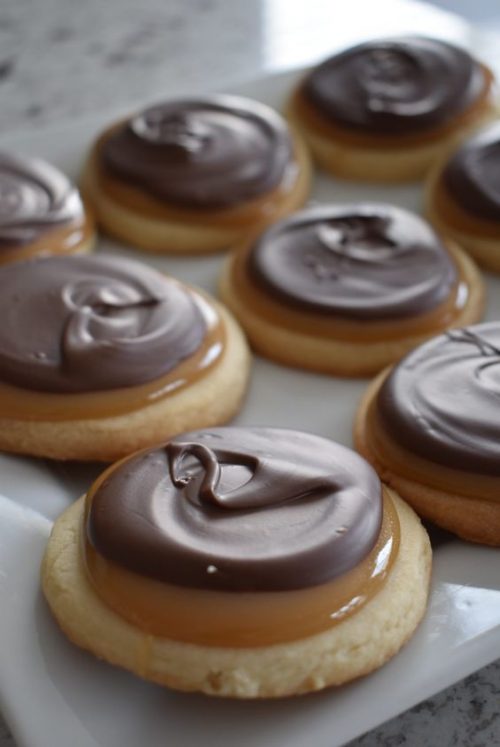 How long do tweedix cookies take to make?
Fortunately, this recipe is very quick to make! If your cannabutter is ready to go, it is time to start baking.
The prep time for this recipe is only 20 minutes. Tweedix cookies need to bake for 30 minutes. These weed cookies need a little time to cool. The fun part begins! It is time to decorate your cannabis cookie.
Ingredients
1 1/2 cups Canna-butter
1 cup powdered sugar
1 tsp vanilla extract
3 cups all-purpose flour
3/4 tsp salt
2 cups caramel
2 tbsp evaporated milk
2 cups Milk Chocolate chips
2 tsp coconut oil.
Instructions
Preheat oven to 250° F.
In a large mixing bowl, cream together the Canna-butter and sugar together. Add vanilla, flour and salt and mix well
On a lightly floured surface, roll the dough out to 1/2 inch thick. Using a small round cookie cutter, cut out your cookies and place them 2 inches apart from each other, on a silicone baking mat, or on parchment paper covered baking pan. Bake in the 250 degree oven for 30 minutes or until the cookie begins to turn a light golden color. Place cookies on a wire rack to cool.
Using a microwaveable bowl, add the caramel and evaporated milk and microwave for 30 second intervals to not burn the caramel. Mix well, and spread onto the cool cookie and allow to set.
Using a small microwaveable bowl, add the chocolate and coconut oil together and then melt in microwave for 30 second intervals also, to not burn. Spread on top of the caramel and allow to set.
Another Recipe
If you love the flavors of Twix candy, you're sure to enjoy this infused cookie take on the beloved chocolate bar! The caramel layer in these cookies makes them a lightly infused homemade edible through the inclusion of our Relax 50mg THC cannabis caramels (available at retailers across Oregon), adding Purple Widow strain-specific full spectrum cannabis compounds and Myrcene and Linalool terpenes – for a perfectly relaxing dessert to round out your night.
Since this recipe is so simple, you'll want to use high-quality ingredients to get the most bang out of the final product – we used Ghirardelli milk chocolate chips, Tillamook butter, and cream-rich caramel candies for the non-infused base to which we add our infused caramels.
This recipe will make about 32 cookies with approximately 4-5mg of THC each if 3 Periodic caramels are used. If you don't know your ideal THC dose, start with 1-2 cookies maximum and wait at least 2 hours to monitor the strength of effects before consuming more. When in doubt, as with all edibles, start low and go slow on consuming to avoid accidental overconsumption.
Ingredients
1 cup unsalted butter, softened
1/2 cup powdered sugar
2 cups all-purpose flour
1/4 tsp salt
1 tsp vanilla extract
11 oz caramel candies, unwrapped
2-3 Periodic edibles Relax Cannabis Caramels
1 tbsp heavy whipping cream
1 package (12 oz) milk chocolate chips
Directions
In a large mixing bowl, beat softened butter and powdered sugar together until well blended and smooth. Add in flour, salt, and vanilla, scraping down the bowl after addition. Beat for 2-3 minutes, until a dough ball starts to form.
Turn dough ball out onto a floured work surface. Using your hands, form the dough into a log, about the thickness of a paper towel tube. Wrap the dough log in plastic wrap and chill in the fridge for 30 minutes and up to overnight. If you chill overnight, you'll need to thaw at room temperature slightly before cutting cookies as the dough will be hardened.
Once the dough is set, pre-heat the oven to 350 degrees Fahrenheit. Use a sharp knife to slice the cookies from the dough log, about 1/4th inch thick, and place onto a baking sheet lined with parchment paper.
Bake the cookies for 11-13 minutes, until the edges have set and the cookies begin to lightly brown. Do not overbake to prevent the shortbread from becoming overly dry and crumbly.
While the cookies are cooling, prepare your caramel sauce. Over a gentle double-boiler, melt down your Periodic edibles cannabis caramels and a few non-infused caramel candies until completely liquid, stirring constantly to incorporate. Gradually add the remaining non-cannabis caramel candies until all are melted down and thoroughly stirred. Add the heavy whipping cream and stir, heating gently for a minute or two, until smooth and creamy.
Using a spoon or small scoop, drop about 1/2 tbsp of caramel into the center of each cookie – it will spread on its own, so you may want to drop portions on one or two cookies and give them 5-10 minutes to check the spreading and make sure you're not using too much caramel – we want the caramel close to the cookie edge, but not running over the side. Allow the caramel to set while you prepare the chocolate layer.
Over the same double-boiler, or in your microwave if preferred, melt the chocolate chips gently while stirring until completely liquid. Once the caramel has set and the chocolate is prepared, spoon an equal amount of chocolate to caramel onto each cookie as shown, spreading with the back of the spoon, and allow to set at room temperature approximately 30 minutes to 2 hours before serving. You can also chill in the fridge for an hour to speed the chocolate setting, but be sure not to leave the cookies cooling for too long to avoid moisture retention by the caramel that can make your shortbread soggy.