CBD PRODUCTS
At Endoca, our all natural, whole plant CBD products are of distinct quality and are crafted from the finest organic hemp extracts. Enriched with beneficial CBD (Cannabidiol), as well as numerous other phytocompounds, terpenes and vitamins. Our diverse CBD product range includes CBD oils, CBD capsules, CBD cream and more. We might be known for selling CBD products, but we believe in 360 wellness, so we've also created an all organic raw food supplements line to complete your Endoca health journey.
You can find out How to make cannabis-infused bubblegum here!
Do you know that you can make your own CBD gummy bears with only a few ingredients?
Excitingly, you can make CBD gummy bears with very few ingredients. Fortunately, it is your choice to make these CBD gummies with either fruit juice or with jello (flavored gelatin). No matter what method you choose, this CBD gummy recipe is easy to follow.

Interestingly, CBD gummy bears are one of the most popular CBD edibles at the moment. Moreover, we receive more interest in CBD gummies than CBD chocolate. These bears make excellent party favors. They are also customizable through food coloring and molds.
What do I need to create CBD gummy bears?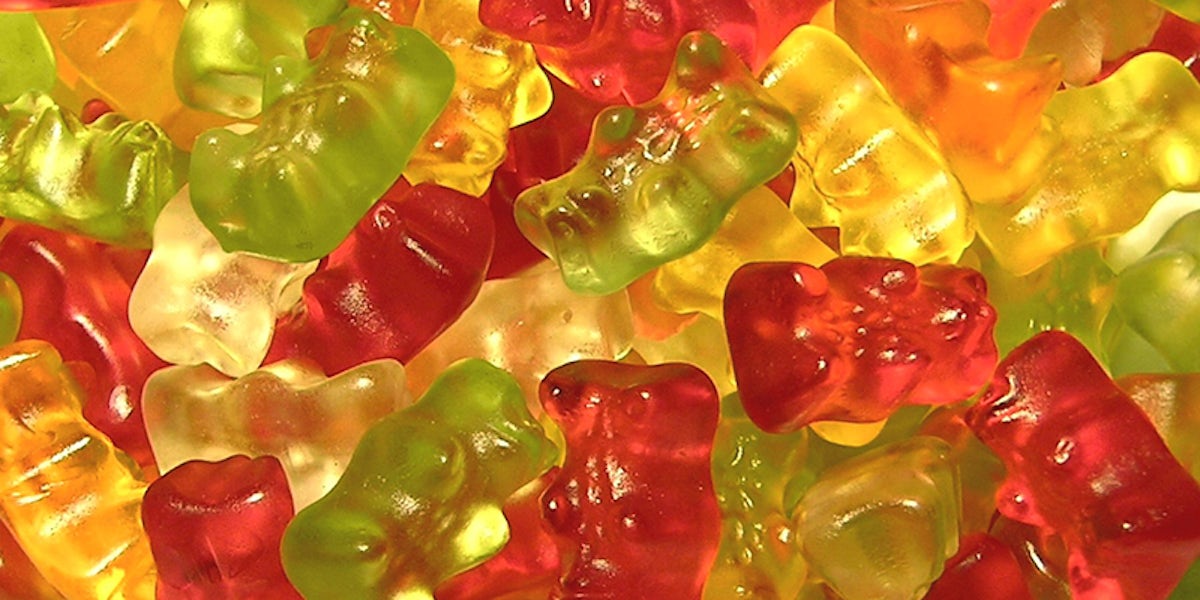 To make these weed dummies you will require CBD oil or a CBD tincture, jello, gelatine, and gummy bear molds.
How do I make CBD Oil or CBD tinctures?
Firstly, to make this recipe, you will need to either make your own, or purchase CBD oil or a CBD tincture.
To make your own CBD oil you will need 1/4 ounce of CBD bud, 1 teaspoon of sunflower lecithin, and one cup of oil.
Now, breakup your CBD strain and crumble it onto a baking sheet. Cover the baking sheet with aluminum foil and place in the oven at 237F/115c for 25-45 minutes. Next, finely chop your CBD bud and place in a mason jar. Add 1 teaspoon of sunflower lecithin and 1 cup of oil. Seal, and place jar in cool water. Bring this water to a boil for 2-3 hours. Let the CBD infusion cool. Strain your CBD oil through cheesecloth into a new jar. Voila! This is CBD oil.
If you prefer, you can make a CBD tincture instead of CBD oil. This process involves using high proof alcohol. Check out our CBD tincture recipe.
How do I get my CBD gummy bears to be different colors?
If you would like your gummies to be different colors, you can use food coloring. It is best to color your gummies using a small dropper. Simple use the dropper to suck up less than a rice size amount of coloring, and add it to the individual gummy mold. Repeat this process for each mold using your desired colors. Remember, jello is already coloured. If you are creating multiple trays, you can simply change up the color of jello that you are using.
Weed Gummies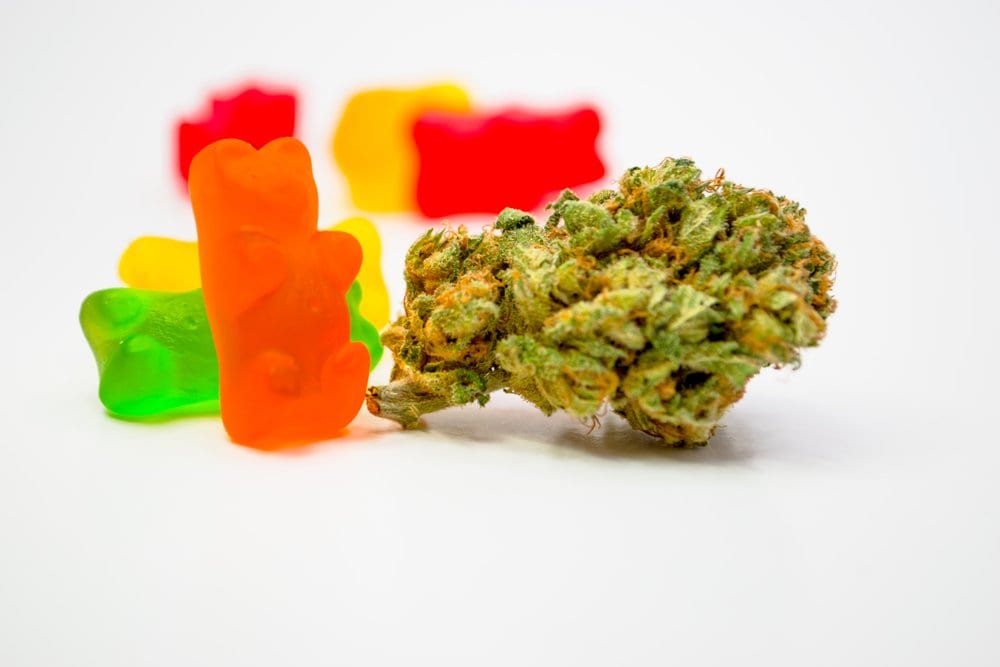 Makes 20 x 1/2-tsp candies
Prep 10 min; total 30 min
1 x 85-g pkg Jell-O powder (any flavour, or a combination of flavours)
2 x 7-g packets unflavoured gelatin powder, such as Knox (2 tbsp)
5 tbsp hot water
Water-soluble cannabis powder or extract (I used a 10 mg THC pack of Dissolvable THC Powder)
1/2 tsp citric acid (optional, if you want to make sour gummies)
Silicone candy moulds, or a box of cornstarch
Combine Jell-O powder, gelatin and hot water in a 2-cup microwave-safe measuring cup (or a microwave-safe bowl with a spout). Stir until combined.
Microwave at 10-sec. increments until the mixture starts to foam. (Checking at intervals will prevent the mixture from overflowing.)
Once foamed (you'll see the mixture rise and fall in the cup), stir until gelatin is dissolved and mixture is clear. It will be hot. Stir in cannabis powder or extract and citric acid until dissolved. (If you're using the Veryvell drops, you can also just drop the desired amount into each mold cavity.)
Carefully pour hot mixture equally into silicone moulds. Freeze until firm enough to unmould, about 20 min. You can eat immediately, or set gummies on a cooling rack and refrigerate to further firm up overnight. Store, refrigerated, in a sealed container up to 2 weeks or freeze up to 1 month.
Calculate dosage per gummy. (I used 10 mg THC and made 20 candies, so each gummy contains 0.5 mg THC.)
Kitchen Tip: You can also make shots by omitting the gelatin powder and adding 1/2 cup cold water to the melted Jell-O mixture. Divide mixture between small paper cups.
Kitchen Tip: If you don't have a silicone mould, you can create your own with cornstarch. Fill a baking dish with cornstarch, then smooth surface. Using a bottle lid (or a measuring spoon), carefully press into cornstarch. Make 20 1/2-tsp cavities (or 10 1-tsp cavities). Fill each cavity with hot gelatin mixture, then sift over a little cornstarch to cover. Let stand at room temperature for 15 min before removing gummies. (Cornstarch molds will dry faster because the cornstarch will absorb some of the moisture).
Edible cannabis products were legalized in October 2019, but it's been a long road to bring them to market. Between the extensive government approval process and product formulation delays, legalization 2.0 hasn't been without its challenges. But as of late April, cannabis beverages started appearing on provincial cannabis sites across Canada. I've waited a long time to try them, and now was finally my chance.
I rarely drink alcohol, but I am a casual cannabis user. In social situations where alcohol is present, I'm the person drinking mocktails, or at the very least, eating an edible cannabis cookie. I was excited to try weed beverages because they'd offer me an alternative. Lift & Co., a Canadian cannabis resource site, says that edibles can take anywhere from 30 minutes to 4 hours to kick in, and last for up to 12 hours. One of the appealing features of cannabis drinks for me is that their formulation mimics the effects of alcohol—including rapid onset time and duration of effects. (I no longer have to wait up to four hours, and worry about potentially being high for 12 hours? Yes, please!)
A quick browse on the Ontario Cannabis Store website showed limited available brands, but there was at least one drink each that contained sativa-dominant THC, indica-dominant THC and CBD. Tetrahydrocannabinol, commonly referred to as THC, is one of the two most abundant chemical compounds found in cannabis plants. THC provides the impairing "high" associated with cannabis consumption, while its sister compound, cannabidiol (CBD), is non-intoxicating and believed to help with relaxation and stress relief, and potentially acts as an anti-inflammatory.
Sativa- and indica-dominance refers to the type of cannabis plant used in the beverage, and the consumption of each can influence your physiological effects and energy levels differently. Sativa strains are known for their uplifting effects, and can increase productivity, so they're recommended for daytime use. Indica strains tend to decrease your energy and promote relaxation or sleep and are best for use in the evenings or at night. (There are also hybrids/blends, which are a combination of both plants.)
I ordered one of each variety to try during isolation: Tweed Houndstooth & Soda (a 2 mg sativa-dominant THC beverage), The Green Organic Dutchman's Infusers Dissolvable THC Powder (10 mg indica-dominant THC drink crystals), and Basecamp's CBD Iced Tea (15 mg CBD with trace amounts of THC).
And remember: always buy cannabis products from licensed producers through legal provincial sites and retailers. Cannabis products from licensed producers are required by law to have their cannabinoid levels tested, analyzed and labelled on the package. This offers you an accurate measuring stick to test your dosage tolerance (think of it as alcohol percentages, but in cannabis terms). As with any cannabis product, always start low and go slow to figure out what dosage works for you.