Marijuana tourism is huge in Colorado, whether your trip includes tours, accommodations or other related cannabis experiences. Marijuana friendly hotels in Denver are particularly popular when planning a cannabis vacation. While many Denver Colorado hotels accommodate the cannabis tourism market, it's early enough that many commercial 420 friendly hotels are still defining their policies or are hesitant to publicly market themselves as 420 friendly. Because of this, many people are choosing to rent their private bud and breakfast accommodations to marijuana-friendly guests.
Not all hotels in Colorado are cannabis friendly. Keep this in mind when visiting colorado and wanting to explore the cannabis scene. Cosuming cannabis in public is still against the law and must be done in the privacy of your own home or property that allows the consumption. Smoking and consumption are two different things. Please consult with your hotels prior to smoking cannabis in your room or on site. Here are a few weed friendly hotels in Colorado for you to choose from.
Can I smoke marijuana in my hotel room or at my vacation rental?
Colorado marijuana law allows hotels and private rental properties the ability to decide whether or not to allow guests to consume marijuana on premises. Most hotels and resorts ban it outright and are smoke-free, which applies to any type of smoking, not just tobacco. Other hotels in Colorado are smoker friendly by less conspicuously accommodating vaping in-room or in an outside area, such as a patio or balcony.
If you want to smoke weed at your cannabis friendly hotel, the options will usually include booking smoking rooms with a balcony or finding a location that offers a designated outside smoking area. This advice doesn't apply to eating marijuana (like edibles, tinctures) and vaping, as you won't run into issues where there is little to no smell involved. Just remember to be discreet!
We highly recommend buying a vaporizer pen, as they give off no smoke and very little odor — plus they're available at most recreational stores you'll visit. You can then purchase oil, wax or shatter concentrates to use with the pen, depending on your preference. We've used these many times in non-smoking rooms or other public places with no problem.
What's a Cannabis Friendly Hotel?
Some traditional hotels and resorts have gone cannabis-friendly as states continue towards legalization. These establishments range from mystical mountain escapes to boutique hotels and allow consumption in designated areas of the property.
Perks of Cannabis-Friendly Hotels
Cannabis friendly hotels provide guests with unique, and often highly curated experiences. While there are still restrictions as to where one can consume cannabis, many hotels and resorts offer CBD and other hemp-infused spa experiences. For cannabis-friendly hotels in California, Applegarth recommends Desert Hot Springs Inn in Desert Hot Springs, Redwood Riverwalk Inn in Fortuna, Didjeridoo Dreamtime Inn in Mendocino Village, Thatcher Hotel in Hopland and Mine and Farm in Sonoma County. 
Marijuana Friendly Accommodations
Our 420 friendly lodging directory contains a mix of commercial hotels in Colorado and private residences (like a bud and breakfast) that allow on-site marijuana consumption, as well as their own respective policies.
Remember that just because a hotel allows it, does not mean they endorse or encourage it. Be respectful of the 420 hotel property and the other guests, and use discretion (like a small one hitter or a vape pen). Unfortunately, it seems like many of the major hotels in Colorado will not allow on-site smoking at the moment. We do have major hotel chains listed below, but we are not allowed to use their company name in advertising.
There are, however, a handful of campsites on private land that do allow consumption, a well as some lodges that encourage it:
Canyon Side Campground
Canyon Side Campground, about two hours northwest of Denver, has space for tent camping, RV hookups and fully furnished cabins. Tent sites are $20 a night, RV parking is $50 and cabins start at $99. The tent area overlooks over a river where guests can fly-fish, and there are trails for hiking, horseback riding or riding ATVs. On your way up to the campground, check out one of the two dozen breweries in Fort Collins, including New Belgium and Odell.
Lake San Cristobol
The second-largest natural lake in Colorado features 31 campsites around the lake. You can fish off the boat dock and canoe or kayak. A campsite is $15 a night; you'll need to bring your own tent, RV or ADA campsite.
Wilderness Bud and Breakfast
Head southwest for another private campsite twenty miles from Pagosa Springs. it offers fully furnished single and double tipis starting at $70 a night and waterfront tent sites for $45 a night per person; tents, sleeping bags and mats can be rented. The facility has a community kitchen and solar-heated shower facility, as well as llamas, rock climbing, swimming, fishing and hiking. The price includes a continental breakfast and a 4:20 p.m. campfire happy hour.
Tomahawk Lodge Motel
We are a small but clean and quiet independent motel in Cortez, CO. We are 420 friendly and do allow smoking in our limited number of smoking rooms (tobacco and marijuana.) We also allow smoking outside anywhere on the property.
Hotel Teatro (Denver, Colorado)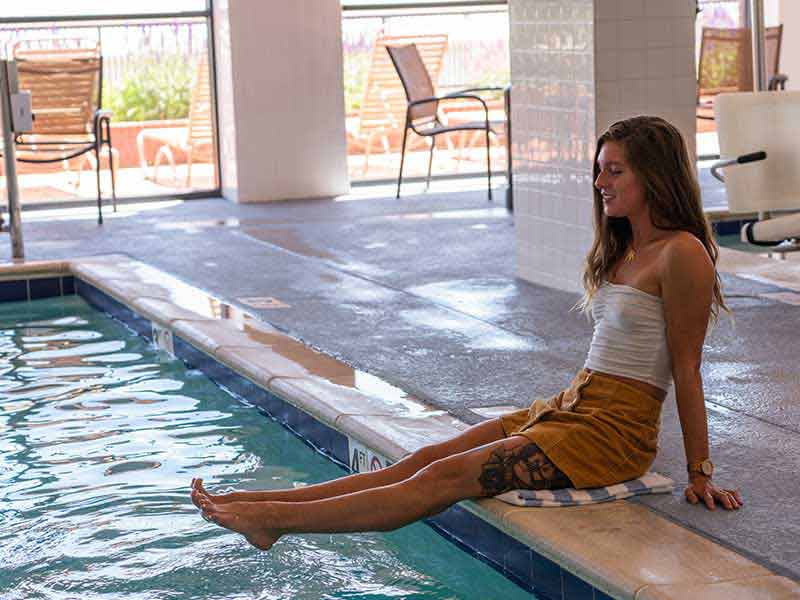 As the Mile High City's first hotel to implement an official CBD cocktail program on the menu of its in-house restaurant, The Nickel also hosts an ongoing series of CBD workshops and special events. Sip a sense of calm with The Chill Lebowski (vodka, Ancho Reyes chili liqueur, espresso, honey syrup, Frangelico, and egg white) or the Super Limoncello Haze (house-made limoncello, Domaine de Canton ginger liqueur, cherry bitters, and whipped cream)—both infused with 12 milligrams of CBD from Denver-based hemp company SUPERGOOD . 
St. Julien Hotel & Spa (Boulder, Colorado)
Located a block away from Pearl Street, the St. Julien Hotel & Spa is Boulder's most luxurious base camp. The independently owned, 201-room property spans a living room-style lobby, an award-winning in-house restaurant, a lively cocktail bar and expansive outdoor patio offering sweeping views. But most impressive is the 10,000-square-foot, full service spa and salon with a 50-foot indoor lap pool, two oversized hot tubs and a fitness center. In June, spa director Susan Hunnell launched a new series of "Colorado Bliss" treatments using an array of CBD products from CAUSE+MEDIC, any one of which is sure to complete your cannabis-infused Boulder itinerary. They also play happening host hotel to Dead & Company's tour stop every summer (July 2020 TBD) offering a "Cosmic Charlie Brunch" with Grateful Dead-themed dishes, bottomless "Morning Dew's" and "Bloody Jerry's," and live music.