Are you ready for this year's 4/20 party? As we approach April, you may be thinking about how to make this particular event more memorable, and we think some cannabis cocktails can help make things more interesting if you're having friends over.
What are CBD cocktails?

Well you've come across coffee cocktails, right? So instead of smoking joints (which is not for everyone), some of your fancy urban buddies may actually prefer to take their weed in a cocktail.
Cannabis cocktails are a top trend across America, which is why you will find a variety of CBD and THC cocktails on offer in bars in every major city.
Below you'll find the cocktail recipes. Keep in mind that the warnings on how to do this are no joke, so pay attention to them, and keep all this away from things like gas stoves and open flames. Alcohol and both of those don't mix, and no cocktail is worth burning your house down.
Weed Whiskey
Ingredients:
750 mL bottle of Bourbon Whiskey
1/4 oz Ground Weed
Directions:
Pour the bottle of whiskey into a sealable jar (or pour out a little bit of whiskey to make up for the added volume of the weed) and add the ground weed.
Shake the bottle and let it sit, out of the sun, for at least 48 hours. Shake it up at least once a day until it has reached your desired potency—up to one month, if possible. The longer it sits, the more potent it will be.
Pour the whiskey mixture into a glass container, using a cheesecloth to strain out all ground weed from the whiskey. Repeat this step as necessary to strain all of the whiskey from the ground weed, and discard the remaining weed.
Lazy Day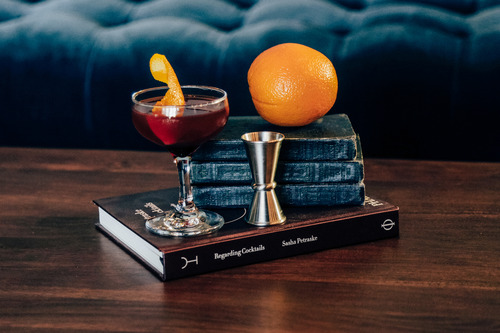 Ingredients:
1 oz. Stillhouse infused Black Bourbon
1 oz. Carpano Antica (or similar Sweet Vermouth)
1 oz. Campari 2-3 dashes of Angostura bitters
Directions:
Stir in a mixing glass with ice and then strain over fresh ice or up depending on your preference. If served up a coupe or similar glass is preferable, and if served on the rocks a classic old fashion glass is perfect. Garnish with a twist of orange peel.
Heady Eggnog
Ingredients:
6 Eggs
3 cups Heavy Cream
1 tsp Salt
1 tbsp Vanilla Extract
3/4 cup Sugar
1 cup Weed Bourbon Whiskey
Nutmeg
Directions:
Separate egg yolks and egg whites into two bowls. Add sugar to the yolks and whisk rapidly for 2 minutes. Add the heavy cream, vanilla extract and bourbon, and whisk until ingredients are distributed evenly. Place the egg whites in a stand mixer (or use a hand mixer), add salt, and whip on high speed until stiff peaks form. Gently fold stiff egg whites into the yolk mixture. Grate nutmeg into the mixture while folding. Refrigerate one hour and serve with grated nutmeg on top.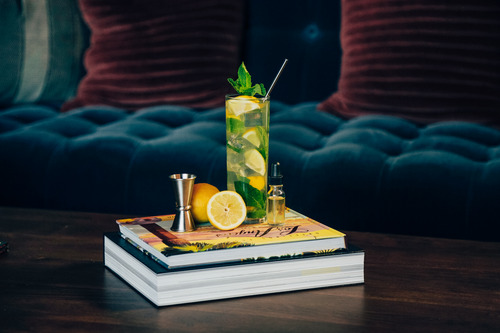 Ingredients
2 oz. Stillhouse Peach Tea Whiskey
Fresh Mint 10-15
Drops of high grade CBD oil
Fresh Lemonade
Directions:
In a Collins or other 12 oz glass, combine mint with Stillhouse Peach Tea and muddle. Add the cbd oil (a substance legal throughout the country), fresh ice and top off with lemonade. Garnish with a fresh mint sprig.
If you're going to delve into cannabis drinks, for the love of all that's Spicoli, be safe.
Know your own strength
Legalization and commercialization have made it easier to understand the likely strength and effect of marijuana you buy. There are whole menus delving into flavor, strength, effects. But this is still one of the diciest areas of making a cannabis edible or potable and why a recipe that works the same way every time is challenging. Cannabis is a botanical product; the chemical contents vary crop to crop and varietal to varietal, and many strains sold are cultivated to be high in THC. Do not assume that the tincture recipe that once produced a pleasant tingle will not suddenly have you facedown on the couch for hours when you use a different plant.

Decarb your dope
The process that turns the chemical contents in "raw" marijuana into THC happens instantly when you smoke a joint: fire, chemical conversion, inhalation and, hey presto, you're Snooped. But if you're making something to drink, you have to decarboxylate the cannabis before putting it into liquid. If you don't want your home reeking of weed, you want to do this in something closed: a Mason jar with the lid on securely but not too tightly, for example. Put 14 grams (1/2 ounce) of fresh, well-ground cannabis in the container, seal it and set it in a baking pan lined with a damp kitchen towel (to steady the jar). Set your oven to around 240 degrees and bake it for 45 minutes, then let the jar cool completely.
Infuse some booze
Once jar and contents are cool, cover the plant matter with 8 ounces of high-proof alcohol. Everclear (a 190-proof neutral grain spirit) works well. Seal the jar, shake it, and set it in a cool, dark place to infuse for 24 hours. When done, strain out the solids. What you have is an extremely alcoholic tincture to use in very small amounts in other beverages. You will not enjoy drinking it by itself, more because of the burn of the high-proof alcohol than the flavor.
Make your drinks
I feel silly lecturing, considering I rarely add cautionary notes about cocktails even though alcohol is implicated in who knows how many tragedies every year. Treating cannabis like it's scarier seems absurd, so I'm going to continue to assume you're an intelligent adult who makes smart choices about what you put in your body and when. That said, not to put too fine a joint on it … use this stuff in very small doses. If you start with cannabis containing 15 percent THC, the recipe I outlined will result in a tincture with approximately 9.5 mg THC per 1/4 teaspoon. According to the Marijuana Policy Project, some edibles manufacturers and Colorado law use 10 mg as a standard serving, but the project suggests that new users start with 5 mg. So the first time you use the tincture, try 1/8 teaspoon in drinks where it'll taste good — lemonade with fresh basil leaves, chilled chai tea, spicy ginger ale. And, yes, if you choose, incorporate it into alcoholic drinks: Think Campari, Cynar, coffee liqueur, Chartreuse, strong flavors in which the herbal note will play a complementary role.