Weed games are like cannabis slang: there are a lot of them and they can be pretty creative. Plus, they are a great way of getting you flying sky-high really fast and spend a fun time with your friends.
To give you plenty of options, we trolled the internet (as in carefully and systematically searched, not the offensive comment) looking for the best weed games. We then assembled 21 of the best for your smoking pleasure.
You can find out A STONER'S GUIDE TO CHRISTMAS here!
Defend Your Marijuana Crops in CROP DEFENDER
In Crop Defender online marijuana game, you must defend your cannabis crops from multiple attackers and threats. This includes cops, thieves, fungus, deer, insects and drought. To make this pot game even more difficult, you must use a different weapon to destroy each type of enemy. From rifles and crossbows to poison and an industrial bong, you must choose each weapon wisely in a race against time.
Repel an Alien Attack in HAZE INVASION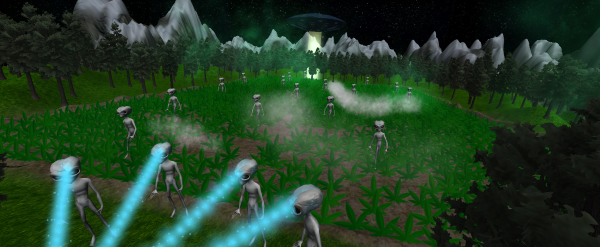 Aliens are invading and the only thing between them and you is a field of marijuana plants. You must fire flaming arrows at the cannabis plants near the aliens until the become too high to advance on your position and are rescued by their ever-present mother ships. Haze Invasion is a 3D "forever" marijuana game that only gets more intense the longer you survive. Special weapons include strength and speed power-ups, as well as the ability to summon a flaming asteroid strike.
Protect Marijuana Crops from Destruction in MIGHTY MITES
In the year 2015, radical right wing republicans in the US government develop and unleash armies of genetically engineered Super Mites designed to eradicate marijuana crops worldwide. In this weed game you must defend these cannabis crops by remotely controlling nano-ships armed with insecticide cannons. But because each mite undergoes mitosis when damaged, every mite killed results in smaller mites branching off and continuing their attack on you. Special effects include the ability to warp to other parts of the field, temporary invincibility, and the ability to acquire additional ships in the event yours is destroyed by a Mighty Mite.
Get Cops High & Collect Weed in STONED MARIO
Our flagship marijuana game is Stoned Mario: 6 levels of beating bad guys with the power of bongs, pot smoke and more. This pot game takes the classic Mario to its next joint-smokingest level. In this parody weed game, you must control Stoned Mario as he makes his way to the jail to free a friend who was busted for growing pot. Along the way you cannot hurt your enemies; you can only get them high using the power of a special bong and joint in order to defeat them.
Avoid Your Enemies & Eat a Ton of Weed in STONED PACMAN
This online marijuana game is way better than the classic. That is, if you like smoking pot. It's fun to run from ghost cops, bouncers and a nagging Mrs. Pacman, but overall the game is pretty challenging. This stoner game is a parody of the original and requires you to eat a ton of pot leaves and collect special prizes as you go along, all the while trying to avoid your enemies. Magical bongs allow you to eat your enemies, but only for a short time.
Never Have I Ever
Gather everyone together and make sure there's enough ganja to go around. Roll a few joints, pack a few bongs, or have some blunts standing at the ready. Pick a person to go first. That person makes a simple statement starting with "Never have I ever…" followed by some action.
So, for example, someone might say, "Never have I ever been chased by a bear." Anyone who has done or experienced that action takes a toke. The next person in the group (clockwise, counter-clockwise, zig zag around the room, whatever) makes a statement and the play goes on from there.
Medusa
Sit in a circle with your cannabis at the ready. Everyone puts their head down or just looks at their feet. On the count of three, everyone looks up and stares at another player.
If you're looking at someone who ISN'T looking at you, you're safe. If you're looking at someone who IS looking at you, shout "Medusa!", fire up your joint and take a hit.
Jammin'
This game is simple in its concept but requires that everyone have their own weed. Put on the song Jammin' by Bob Marley and take a hit every time Mr. Marley says "jammin'" or "jam." There are a couple times in the song where the backup singers say "jammin'" or "jam," so you can decide beforehand if you want those to count.
Be warned, though, those backup-singer "jams" come fast and furious (4 hits in 4 seconds). Either way, it's a fun weed game that is sure to get you baked in no time.
Weed Jenga
This requires a bit of planning and prep beforehand, but you can make a game out of that too. You'll need a permanent marker and a box of Jenga blocks. Get plenty high and then write rules on some or all of the Jenga blocks.
You can skip the get high part (although why you would, I don't know) but you still have to write rules. Rules like, "take two hits" or "close your eyes for the rest of the game" work well. Get creative and have fun (that's why the get high part first).
When you've finished writing the rules, assemble the Jenga tower and play as normal. When a player pulls a block, they have to do what it says. When the tower collapses, the person responsible has to watch while everyone else takes a puff on their joint or blunt. That's the basics, but you can make up your own rules to make the game more interesting.
Cannabis Cinema
Turning movies and TV shows into drinking games is about as American as baseball. The same strategy can be applied to cannabis.
Start by picking a movie or series with cannabis as a key element or plot point (we have a list of the most popular in our Best of 420 post).
Now, take a hit every time:
someone in the movie or show mentions marijuana (or weed, pot, cannabis, ganja, etc)
someone smokes marijuana (or eats edibles)
you see marijuana on screen

Musical Marijuana
Lots of songs are about weed. But that isn't a requirement for this game. Instead, choose a song with semi-repetitive lyrics. Now get all the participants a joint. Finally, take a hit every time that lyric is repeated.
Here are a few of my favorites:
Jammin', Bob Marley & The Wailers (every time you hear "jammin'")
Thunderstruck, AC/DC (every time you hear "thunder")
Roxanne, The Police (every time you hear "Roxanne" or "red light")
Hey Ya, Andre 3000 (every time you hear "Hey Ya")
Single Ladies, Beyonce (every time you hear "Uh oh")
You Spin Me Round, Dead or Alive (every time you hear "round")
I Wanna Be Sedated, The Ramones (every time you hear "I wanna be sedated")
The selection is almost limitless. Just find a song you like, pick a lyric, and enjoy! You can also make the game less weed-intensive by passing the weed each time the keyword or phrase is used.